10 Upcycle Projects for Nappy Boxes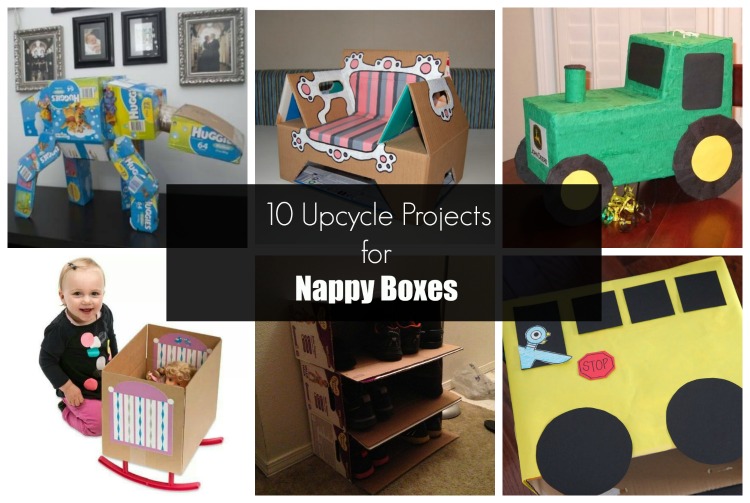 With a baby and toddler in nappies, we have accumulated quite the nappy box collection. Instead of cutting them up to be put in the recycling bin, I went on the hunt for some ways the nappy boxes can be reused. Nappy Boxes are sturdy and are an easy size to work with. Here are 10 Upcycle Projects for Nappy Boxes that will free up some space in the recycling bin.
1. If you have a fair few boxes sitting around like I do – or stacked in a corner ready to be flattened for the recycling, why not get creative with the kids and create this All Terrain Armored Transport vehicle. It could pass as a dinosaur too. Whatever you choose to call it, get the kids to make the final decision on what the project will be.
2. Nappy boxes are the perfect size for a piñata. This John Deere truck piñata was made out of 1 and a half nappy boxes and decorated using crepe paper.
3. Why buy a doll's cot when you can make your own from a nappy box? The nappy box is the perfect size for dolly to lay her head. Decorate the outside and add rocking legs.
4. Get the kids to decorate a box and make it into a home made toy car wash.
5. These transport ideas will keep the kids busy. A garbage truck, bus, fire engine and transport truck are easy to replicate using this tutorial.
6. Make a transport costume by removing the bottom of the box so that a child can squeeze through the middle and wear to a costumer or dress up day at school.
7. Stack nappy boxes to create a shoe shelf. For a more integrated look, cover the boxes in paper that will suit with the interior of your home.
8. Make this cool toddler chair from 1 Pampers nappy box. The full tutorial can be found here.
9. Nappy boxes can make great storage boxes for filing or kids toys.
10. Make a skee ball game that will not only busy the kids when making it, but will entertain them once it's made.
What do you do with all your children's nappy boxes?