Don't Sweat It – 10 Sweaters for under $100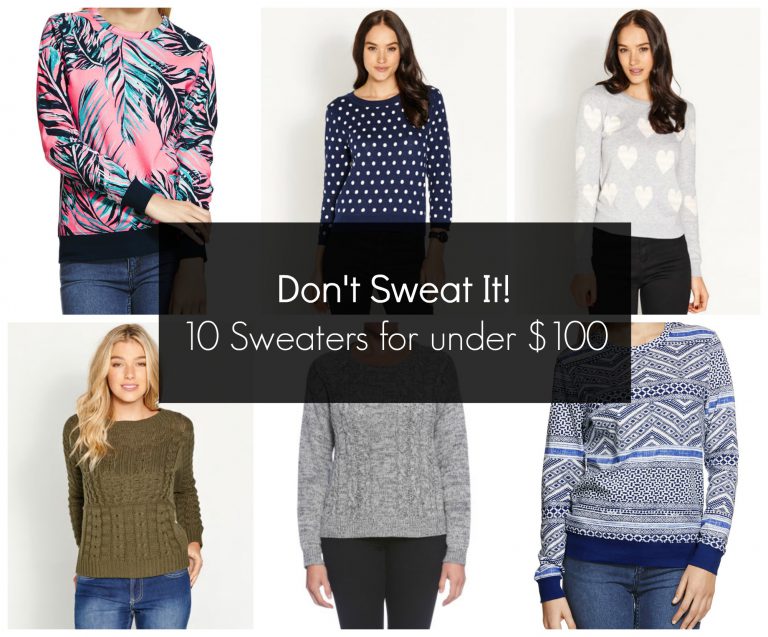 Winter is definitely here and I love reaching for a sweater to layer over a long sleeve tee and jeans. Easy dressing in winter is a must and I find the sweater is an essential piece of a mum's winter wardrobe. Whether it's a knit or pull over style sweater, we have found 10 sweaters for under $100. With a cold snap hitting the South Eastern side of Australia this weekend, now has never been a better time to shop to get yourself armed with the essentials.
A simple round neck sweater like this one from Birdsnest can be layered over a white shirt, with the collar folded over the neck of the sweater. Spots are a popular pattern this winter.
I love a sweater with details and this sweater by Ladakh has a lot of detail to love.
For a bohemian look, try this fringed sweater from Seed Heritage.
Cable knit sweaters are the warmest sweater around. They can be layered or worn on their own.
I love a cute ugly sweater, although this sweater isn't ugly is it? Does Peter Alexander do ugly? We think not. This sweater is perfect for a day at home or at night when going to bed.
Busy patterns like this Bonds pull over sweater can be all the detail you need to wear for a day at home.
The leaves may be off the trees, but that doesn't mean you can't wear them with this tropical print sweater by Bonds.
This cute heart sweater by Dotti, is love at first sight.
Everyone is going spotty over Dotti. Polk dots are a fun print to wear this winter.
Last, but not least, this khaki cable knit sweater looks all types of warm.
What do you reach for when it gets cold? Which sweater would you choose?
Disclosure: There are affiliate links on this post. Should you choose to purchase an item, we will receive a small commission at no extra cost to you.