Tiny Whale…Simply Perfect Tees for Your Little Ones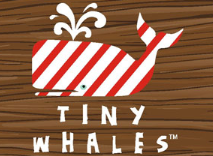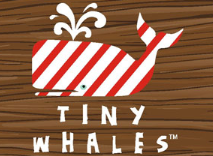 Tiny Whales…Tiny Whales…what a special name I thought, as I repeated it to myself.  They must have very cute gear and indeed they do. A wonderful, eclectic collection.  The special couple that started Tiny Whales were inspired by their beautiful nephew.  They wanted to design and create tees that would inspire and also give children enjoyment, what was going to be a simple journey as a side project soon became their passion, this I can totally relate to….  
I have to say these tees are superb and full of delightful choices.  They are all made in Los Angeles and Printed in Orange County CA,  (100% American and very cool.)  You can dress your bub from 6 months and go right up to 12 years, depending on the top.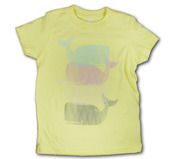 I was sent some of these smart tees, all made with 100% Organic Cotton…they are super soft and totally comfortable.  They wash very well too, and yes mum/dad you can stick them in the dryer on low-this is practical.  Indigo looked adorable in her lemon yellow top which has whales printed on the front, stacked up!  With her navy leggings and sandals she was set to go.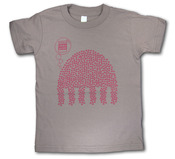 I was having to make a choice today, which tee should we use?  The gorgeous Peanut Butter & Jellyfish…I love a good play on words in an awesome colour called cinder you can have your little one looking super stylish.  This tee has a unique design because the main jellyfish is made up of many tiny jellyfish- how sensational is that?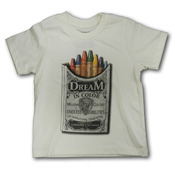 The other fabulous tee I have is Dream In Colour.  With a wonderful drawing showing a packet of crayons on the front with an old fashioned twist.  A soft cream/natural colour that will go with so many things, such as some denim pants, or pair it with a soft green, pink or blue shorts.  This one is suitable for little boys or girls from 2 years to 12 years.  There are plenty of different types to look at and match in with your child's wardrobe. 
Tiny Whales are so well worth the look.  Check out their site today, they deliver all around the globe too, super to deal with and are very prompt with their orders.  Or you can check out one of the many cool stockists that carry the Tiny Whales Range.  Black Wagon is a fabulous store to browse online, or if you happen to be in Portland, Oregon check out the Tiny Whales Tees up close and see for yourself just how wonderful they are.