11 Books to Celebrate International Women's Day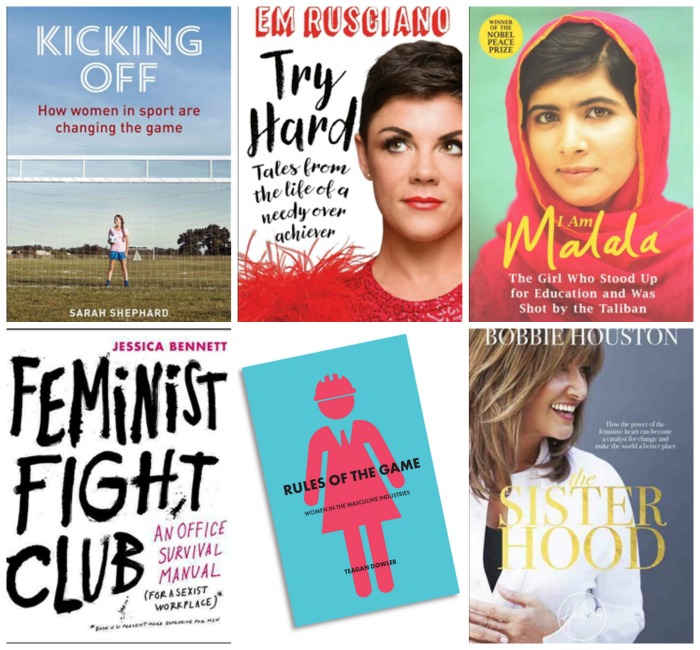 11 Books to Celebrate International Women's Day
When you look all around, we are surrounded by strong women. Each of us should be able to say the name of a woman who has impacted us and spur us on in our own journey.
In honor of International Women's Day, we've compiled a list of 10 books to help you celebrate the amazing achievements of women around the world. We may have slanted more with Australian women who are driving change and conversation in the community. But each of these books share stories of women who aren't afraid to lead women in the pursuit of living a life where they can pursue success in an array of different areas.
While we still need to see improvements in equality for women, we must celebrate what has been achieved.
We've chosen a range of books that cover ethnicity, historical figures, religious leaders and women in the media who aren't afraid of using their voices to inspire women to be awesome at whatever they've chosen to put their hand to.
We hope you enjoy this list.
Online sensation, fearless feminist heroine and scourge of trolls and misogynists everywhere, Clementine Ford is a beacon of hope and inspiration to thousands of Australian women and girls. Her incendiary debut Fight Like A Girl is an essential manifesto for feminists new, old and soon-to-be, and exposes just how unequal the world continues to be for women. Crucially, it is a call to arms for all women to rediscover the fury that has been suppressed by a society that still considers feminism a threat.
Fight Like A Girl will make you laugh, cry and scream. But above all it will make you demand and fight for a world in which women have real equality and not merely the illusion of it.
2. I Am Malala by Malala Yousafzai $19.99
'I am Malala' tells the inspiring story of a schoolgirl who was determined not to be intimidated by extremists, and faced the Taliban with immense courage. Malala speaks of her continuing campaign for every girl's right to an education, shining a light into the lives of those children who cannot attend school.
3. Try Hard by Em Rusciano $32.99
A hilarious, heartfelt memoir from one of Australia's most adored performers. Funny, feisty and fabulous, Em Rusciano's insights into her world of mayhem, marriage and motherhood are a laugh-out-loud, cry-out-loud balm for the soul.  She has all the insecurities of a person who spends their nights racked with self-doubt and all the confidence of a woman who can walk out onto a stage in front of a sold-out theatre and absolutely slay the crowd. Em has an army of gay men she adores, tells the best dirty jokes and loves those closest to her ferociously. When the chips are down you definitely want her by your side. This book shares the triumph and lows of an Aussie gal with European roots, making a life on her terms.
4. #GIRLBOSS by Sophia Amoruso $24.99
The "New York Times" bestseller Sophia Amoruso wrote "#GIRLBOSS" for outsiders (and insiders) seeking a unique path to success, even when that path is winding as all hell and lined with naysayers.
"#GIRLBOSS" proves that being successful isn't about how popular you were in high school or where you went to college (if you went to college). Rather, success is about trusting your instincts and following your gut, knowing which rules to follow and which to break.
5. The Sisterhood by Bobbie Houston $29.99
Colour Sisterhood is a modern day movement. THE SISTERHOOD is a book written by the Co-founder and Senior Pastor of Hillsong Church and founder of The Colour Sisterhood. The book shares candidly of Bobbie's vision for a movement of women to create change. Bobbie Houston paints a vision of God's plan for women of all ages and backgrounds to flourish, empower each other, and unite to change the world. We don't need to look far to realize that not all women live with the same opportunities and confidence. THE SISTERHOOD invites women to explore and expand what they believe about God, themselves, and their responsibility to the world around them. Bobbie Houston challenges women to join her in creating a new era of outreach. Readers will learn how to embrace their individual gifts and value as women, growing seeds of change into greater possibilities for women everywhere. If one woman can change her world, then only heaven truly knows what an entire company of women can achieve.
6. Kicking Off by Sarah Shephard $27.99
There's a battle being fought. It's raging on the sports fields, in the newsrooms, and behind the scenes at all the major broadcasters. It's a battle that dates back further than any of us can remember, and yet it has lost none of its momentum–in fact, it's being fought with more vigor now than ever before.
The warriors are women in sports, and in this book their battles will be broken down to discover if and how they can ever be won. It will ask the questions that can no longer be ignored and tell the stories that can no longer be overlooked. It will be a vital tool in helping women switch their focus from the battlefield to the sports field, once and for all.
Why do the most successful female athletes earn less than their male counterparts?
Why are fewer women competing in top flight sports?
Why are viewing figures for women's sporting events so low?
All this and more, covered in a smart, feisty book, written by the features editor at "Sport" magazine.
7. Bad Girls Throughout History by Ann Shen $33.99
Aphra Behn, first female professional writer. Sojourner Truth, activist and abolitionist. Ada Lovelace, first computer programmer. Marie Curie, first woman to win the Nobel Prize. Joan Jett, godmother of punk. The 100 revolutionary women highlighted in this gorgeously illustrated book were bad in the best sense of the word: they challenged the status quo and changed the rules for all who followed. From pirates to artists, warriors, daredevils, scientists, activists, and spies, the accomplishments of these incredible women vary as much as the eras and places in which they effected change. Featuring bold watercolor portraits and illuminating essays by Ann Shen, Bad Girls Throughout History is a distinctive, gift-worthy tribute.
8. Rules of the Game by Teagan Dowler $19.95
Men have dominated the engineering, resources and construction industries. There are cultures of aggression, dominance and hyper-masculinity, and women who choose to work in these fields are expected to harden up or "Fit In or F-Off".
So what does this mean for the women today who work, or want to work, in these traditionally masculine industries?
In Rules of the Game, Teagan Dowler, Organisational development and Leadership Coach and founder of The Blue Collared Woman, shares her own and other's experiences, to explore the reality of being a woman in the masculine workplace.
The book offers an honest account of the realities faced by women in these industries. The book has been written to help women succeed in these male-dominated industries.
9. Feminist Fight Club by Jessica Bennett $29.99
Part manual, part manifesto, a humorous yet incisive guide to navigating subtle sexism at work a pocketbook Lean In for the Buzzfeed generation that provides real-life career advice and humorous reinforcement for a new generation of professional women.
It was a fight club but without the fighting and without the men. Every month, the women would huddle in a friend s apartment to share sexist job frustrations and trade tips for how best to tackle them. Once upon a time, you might have called them a consciousness-raising group. But the problems of today s working world are more subtle, less pronounced, harder to identify and harder to prove than those of their foremothers. These women weren't just there to vent. They needed battle tactics. And so the fight club was born.
10. Bossypants by Tina Fey $22.99
Tina Fey is one of the world's greatest comic writers and performers. Bossypants is her first book.
Once in a generation a woman comes along who changes everything. Tina Fey is not that woman, but she met that woman once and acted weird around her.
Before 30 Rock, Mean Girls and 'Sarah Palin', Tina Fey was just a young girl with a dream: a recurring stress dream that she was being chased through a local airport by her middle-school gym teacher. She also had a dream that one day she would be a comedian on TV. She has seen both these dreams come true.
At last, Tina Fey's story can be told. From her youthful days as a vicious nerd to her tour of duty on Saturday Night Live; from her passionately half-hearted pursuit of physical beauty to her life as a mother eating things off the floor; from her one-sided college romance to her nearly fatal honeymoon from the beginning of this paragraph to this final sentence.
Tina Fey reveals all and proves what we've all suspected: you're no one until someone calls you bossy.
11. The Beauty Myth by Naomi Wolf $27.99
In today's world, women have more power, legal recognition, and professional success than ever before. Alongside the evident progress of the women's movement, however, writer and journalist Naomi Wolf is troubled by a different kind of social control, which, she argues, may prove just as restrictive as the traditional image of homemaker and wife. It's the beauty myth, an obsession with physical perfection that traps the modern woman in an endless spiral of hope, self-consciousness, and self-hatred as she tries to fulfill society's impossible definition of "the flawless beauty."
What books have empowered you as woman?
Disclosure: There are affiliate links on this post. Should you choose to purchase an item, we will receive a small commission at no extra cost to you.