Creamy Chicken, Bacon and Mushroom Casserole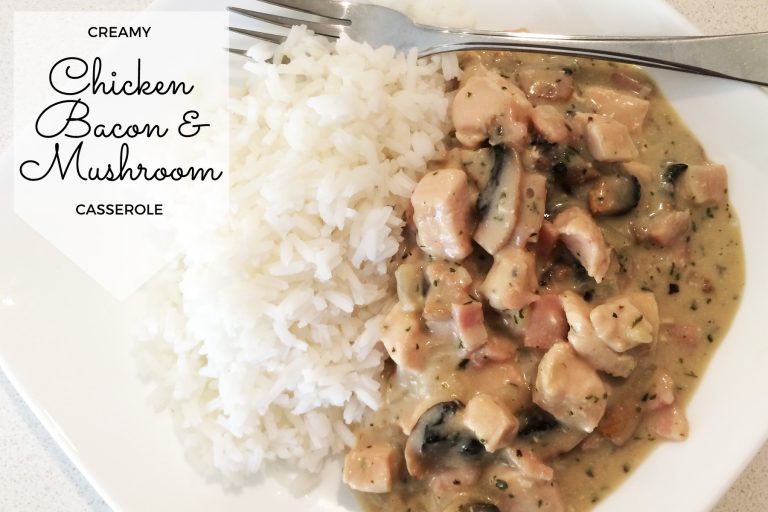 Creamy Chicken, Bacon and Mushroom Casserole
This delicious chicken, bacon and mushroom casserole is perfect served over rice or fluffy mashed potato, and can be ready in under half an hour. Creamy, savoury sauce simmered on the stove top is just as quick and easy to make as the stuff that comes in jars and tastes so much better! Our children scarfed this down in minutes, they loved it!
First, heat a little oil in a big frying pan and saute some onion and garlic. Add some diced chicken breast and chopped bacon and cook for a few minutes until the chicken changes colour. Add the mushrooms and cook for another few minutes.
Add some flour and stir through the mixture. Slowly add the milk while stirring until the casserole thickens. Then add some grated cheese, chicken stock powder, salt and pepper and dried parsley. Allow to simmer gently for ten minutes and serve with rice.
Too easy!
Creamy Chicken, Bacon and Mushroom Casserole
Ingredients
1 large chicken breast fillet, diced
5 rashers short-cut bacon, chopped
1 medium brown onion, finely chopped
1 clove garlic, crushed
200gms sliced mushrooms
2 cups milk
2 tablespoons plain flour
1 cup grated tasty cheese
1 chicken stock cube, dissolved into 2 tablespoons water
2 tablespoons chopped parsley (or 1 tablespoon dried)
Salt and pepper to taste
Instructions
Heat oil in a large, heavy based saucepan and cook onion and garlic until tender. Add chicken and bacon and cook until chicken changes colour to white. Add the mushrooms and stir to combine, cooking for a further 3 minutes.
Stir in the flour and gradually add the milk, continuing to stir until the mixture starts to thicken. Add the rest of the ingredients and stir to combine. Allow to simmer gently for ten minutes. Serve with rice.
https://mumslounge.com.au/lifestyle/food/creamy-chicken-bacon-mushroom-casserole/