Breastfeeding Supermum Runs Out Half Naked To Save Pet Goose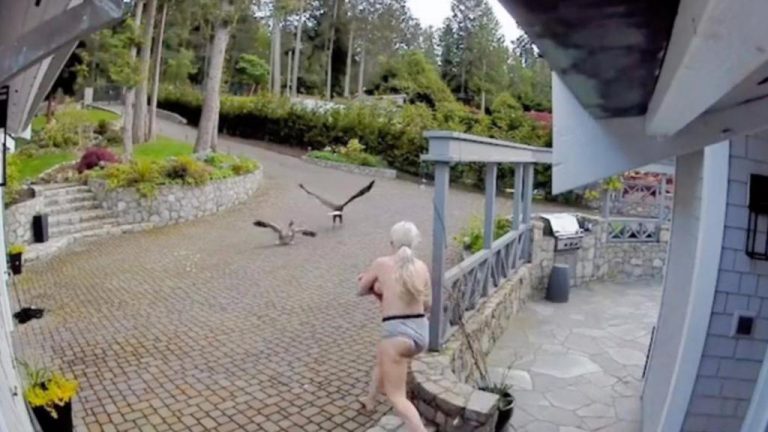 Breastfeeding Supermum Runs Out Half Naked To Save Pet Goose
There is nothing a woman can't do! Check out the now viral video of a breastfeeding mum who raced outside barely dressed to save her pet goose from the clutches of a swooping eagle. If this isn't the best clip you've seen all week we don't know what is. Legend!
Cait Oakley, 31, was feeding her four-month-old daughter in their North Saanich home at around 6.30pm on Monday when she noticed an eagle swooping down towards their pet goose Frankie.
Oakley shared the footage from the family's home security system to TikTok, where it quickly went viral with over 7 million views and counting.
The bizarre event begins with Frankie, honking hysterically in their driveway. Just moments later, a bald eagle swoops down trying to drag the poor Frankie away. That's when Oakley snaps into wonder woman mode.
As Frankie is being dragged down the driveway, the mum bursts out of the front door, baby on boob and chases the eagle away. 
Watch…
"I was in the middle of feeding her, so that's why I didn't have a shirt on and was kind of getting ready for the evening," she said.
"I just ran outside and when (husband) Mike came out he was like, 'you're topless'.
"And I'm like yeah, no, I'm very aware. Sorry neighbours."
Luckily Frankie came out of the incident unharmed.
"She's totally fine — super sassy, as always," Oakley told the Canada's Chek News.
Commenters on TikTok we're quick to praise the supermum saying this is what being a woman is all about -multitasking!
"Now that's a wonder woman,' noted one.
"Not all heroes wear capes," said another user.
"Not all heroes wear clothes," joked one woman.
While Oakley was quick to play down her actions saying anyone else would've done exactly the same. "This is mum life," she said.
Images: TikTok