Aeroplane Jelly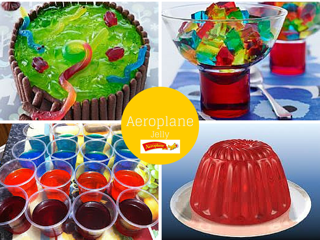 Mum's Lounge WIN a $1000 Amazing Aeroplane Jelly Hamper
Would you be surprised to learn that 'Aeroplane Jelly' is 87 years old? Created by Bert Appleroth, 'Aeroplane Jelly' became one of Australia's largest family-operated food manufacturers. Start thinking about your earliest memories of the colourful, wobbly stuff loved by millions. How old were you when you first heard the jingle? What was your favourite flavor? How many ways did YOUR Mum serve 'Aeroplane Jelly'?
And then there was the jingle! It was composed by Albert Lenertz who was a business partner of the Appleroths. It was first sung in the early 1930's.
The growth of Aeroplane Jelly from Bert's backyard to one of Australia's most iconic brands is an amazing story.
A story filled with events like the time Bert dropped jelly onto Sydney beaches from an aeroplane as a publicity stunt, the birth of "Bertie the Aeroplane" in the 40s and a radio competition back in 1938 when five-year-old Joy King was chosen to record the memorable Aeroplane Jelly jingle and seven-year old Tommy Dawes, who was in the same talent quest, became the "whistling boy" on the front of the jelly packets and on advertising.
Are the memories flooding back? 'Aeroplane Jelly' is like a trusted friend that is always welcome in our home. Children still love being introduced to jelly and adults still love feeling like kids when they can eat it too; it remains a firm (albeit wobbly) favourite. And 'Aeroplane Jelly' is as relevant today as it's ever been.
Which is why we here at Mum's Lounge are delighted to bring you fresh, new recipes and a fantastic competition to help celebrate 87 years of fun and wobbly bits.
We'll be launching seven exciting and memorable new festive recipes very soon. But you can enter the competition right now!
Mum's Lounge and Aeroplane Jelly are giving you the chance to win a Super Amazing Family Christmas Hamper crammed with goodies for the whole family, worth $1,052.90.
What's in the hamper? I'm glad you asked.
Blockus Classic,
$38.99
Scrabble Original,
$39.99
Scrabble Junior,
$39.99
Hot Wheels 5 Lane Tower,
$39.99
Pictionary Family,
$38.99
3 x Cars Rs500 McQueen,
$149.97
Boom Co Twisted Spinner,
$44.99
Boom Co Clip Fire,
$9.99
Various McCormick Spices
$100.00
Various Aeroplane Jelly products
$100.00
Green Pan Cast Iron Grill –
$450.00
ENTER NOW and you could be enjoying all these gifts courtesy of Aeroplane Jelly