WIN a Fantastic Collection of Gorgeous Baby Items from gr8x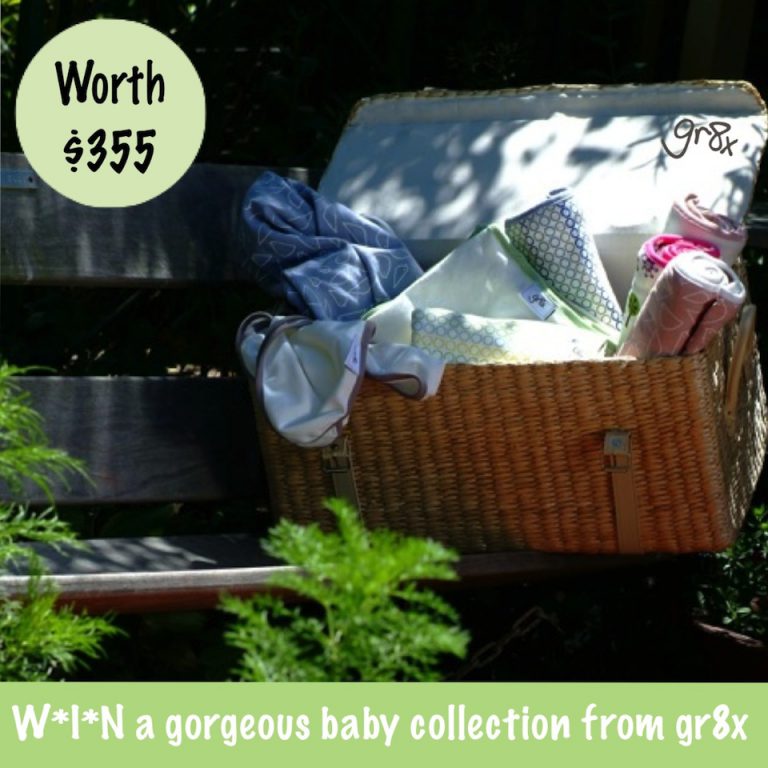 WIN a fantastic collection of gorgeous baby item from gr8x
These are some of my favourite products from gr8x.
The gr8x Baby Traveller is a fantastic all in one bag that is so versatile. I have to admit that I am a such a fan of all the little pockets, there really is a place for just about everything – it must be my burning desire, as a Mum, to have a little bit of organisation amongst the chaos.
I just love that you can have everything you need for a day out with your little bub stored in one place, which certainly takes some of the pain out of packing up and remembering all of those numerous things you need when you have a bub.
The simple yet effective design means that you can carry it multiple ways depending on your day ahead. When I have the stroller I can simply attach it to the handle and on days when I want to carry my bub in a carrier I can just pop it on my back, throw it over my shoulder or just carry it like a satchel.
Having the changing mat as an integral feature of the bag certainly makes things a lot swifter and easier to manage when you are in a state of nappy emergency. The change mat if lovely and soft with a removable terry towelling cover, so it makes for a nice comfy change for little ones. It also has some extra length thrown in so has the added bonus that you can continue to use it when your little one reaches toddlerhood.
The entire bag can be wiped clean as well as having a removable change mat that can be thrown in the wash, so its nice and easy to keep it looking and smelling nice.
I love this bag and think that it's the perfect all-in-one day tripper.
The gr8x Calypso Satchel is for the stylish Mum (or Dad), bringing a little bit of glamour to your nappy carrying days.
It is such a beautiful design made out of lovely soft leather, that it hardly feels like a nappy bag at all. Yet it is large enough to carry all of your essentials and includes a soft change mat, insulated bottle warmer and adjustable strap.
There are plenty of pockets to tuck your things in and best of all the double zip around the top makes accessing and finding everything is so much easier. It certainly feels like a 'Mary Poppins' bag as it's an elegant bag from the outside but quite surprising how much you can store away on the inside.
This bag is perfect for any occasion.
The gr8x Double Stretch Swaddling Wraps come in such a gorgeous range of stylish designs to suit the little man or little lady in your life.
When a baby enters the world for the first time it can be a little daunting to be surrounded by all that space and away from the secure warm place that they had come from. I love that these gorgeous swaddle wraps are so soft and stretchy meaning that I can offer my little one some of the natural comforts they may be craving, which really helped settling my little off to sleep.
The elestane in the fabric meant that they stay soft and are easy to wrap comfortably, also allowing for some movement as it stretches with your baby.
Best of all when your precious little one is done with being swaddled, you can still use these lovely wraps as a light cover over your little one while in a stroller or car seat, so you can certainly get your moneys worth out of them.
Written by Julie Muchamore.
If you would like to WIN ALL of these lovely items from gr8x, then simply complete the entry form below. Good Luck!