3 Ingredient Peanut Butter Dip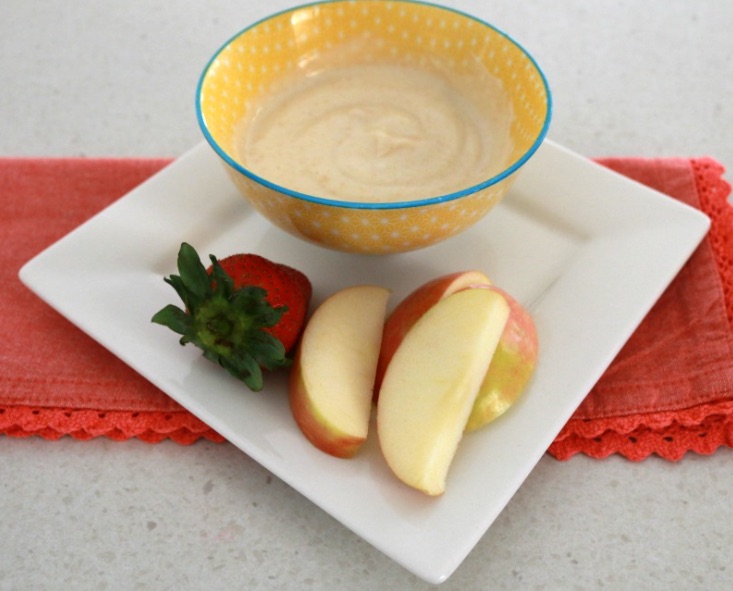 3 Ingredient Peanut Butter Dip
I love any recipe that contains only 3 ingredients. Right from the start you know it's going to be easy (and cheap!) – two very important things! And this 3 Ingredient Peanut Butter Dip is exactly that… and it's totally delicious too!
This is seriously one of my favourite recipes. Well to be honest, anything with peanut butter in it is a winner by me, but this one is extra good. Best of all, you probably already have all of the ingredients in your fridge and pantry. Yep, you only need natural or greek yoghurt, peanut butter and honey. Ok, go check if you've got them.. I'll wait!
Yay! So you do have them all! Perfect. That means that you are well on your way to making the most delicious little dip ever. Move over savoury dips, this sweet little thing is the perfect accompaniment to chopped up apples, strawberries and berries (ahem… or maybe even an Oreo biscuit?).
Anyway, to make the dip you simply add all three ingredients to a small bowl and whisk around really well with a spoon until it's nice and smooth and creamy. I like to use crunchy peanut butter so that you have a bit of a crunchy texture, but that's just personal preference. Then dip away with all your favourite chopped up fruit and you have the perfect afternoon pick me up.
This Peanut Butter Dip is a great sweet alternative to the traditional dip, crackers and vegetable sticks at a party. It also makes a super healthy after school snack for the kids.
So let's get into the super easy recipe:
3 Ingredient Peanut Butter Dip
Ingredients
1 cup natural or greek yoghurt (low or no fat is fine)
1tbs honey
1/4 cup peanut butter (smooth or creamy)
Instructions
Place the yoghurt, honey and peanut butter into a small bowl.
Whisk with a spoon until completely completely smooth and creamy.
Serve with sliced fruit (such as chopped apple, strawberries, banana and berries).
https://mumslounge.com.au/lifestyle/food/3-ingredient-peanut-butter-dip/
See I told you! How simple is that! You could nearly make it with your eyes closed (hehe go on, try it!).
What are your favourite healthy snack recipes? Are you a massive peanut butter fan like me?