Make Your Own Hot Cross Buns with This Simple Recipe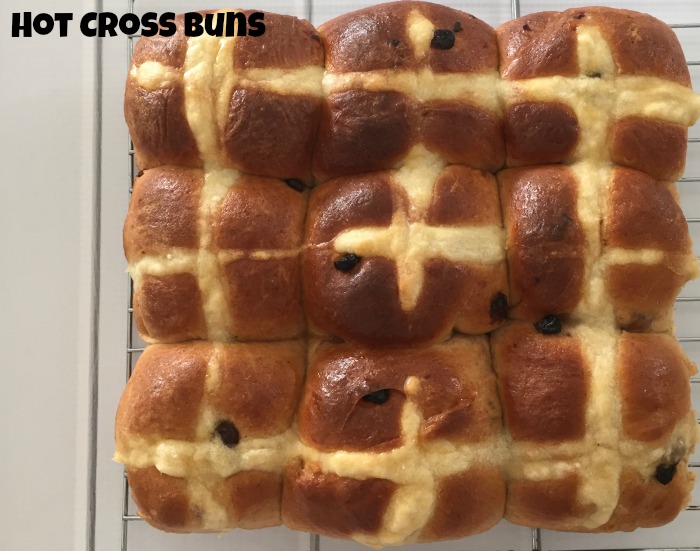 There is no denying this year is already beginning to speed by and before we know it Easter will be upon us. Instead of buying Hot Cross Buns from the supermarket this year, why not try making your own with this simple Hot Cross Bun recipe?
All it takes is a few easy steps and a little time and you will have the delicious aroma of freshly made Hot Cross Buns wafting from your oven in no time – what are you waiting for?!
Make Your Own Hot Cross Buns with This Simple Recipe
Ingredients
1 tablespoon of active dry yeast
½ cup of caster sugar (115g)
1½ cups of lukewarm milk (375g)
4¼ cups of plain flour (640g)
2 teaspoons of mixed spice
2 teaspoons of cinnamon
50g of melted butter
1 egg
1 cup of raisins (150g)
½ cup of currants (50g)
For the Crosses:
½ cup of extra plain flour
⅓ cup of water
For the Glaze
2 tablespoons of apricot jam
2 tablespoons of water.
Instructions
Let's put it together!
Lightly oil a large bowl and set aside until needed.
Line a 23cm cake tin with baking paper and set aside until needed.
Place the yeast, 2 teaspoons of the sugar and all of the milk into a small bowl and let it sit for 5 minutes. After this time the mixture should have started to foam which is a sign the yeast is active.
In a large bowl, add the flour, mixed spice and cinnamon, egg, butter, raisins and currants, remaining sugar and activated yeast mixture. Use a butter knife to mix and combine the ingredients until a dough forms - don't worry, it will be sticky.
Turn the dough onto a floured bench and knead for approximately 8 minutes or until the dough begins to feel elastic.
Place the dough into the prepared oiled bowl, cover with a tea towel and sit in a warm place for around an hour or until the dough has doubled in size.
Remove the dough from the bowl and divide into 12 equal pieces before rolling into balls.
Place the dough balls into the prepared cake tin, cover with a tea towel and place the tin in a warm spot for another 30 minutes to allow the dough to again rise.
while the dough is rising, preheat your oven to 200 degrees.
In a small bowl, combine the extra plain flour and water until smooth and place into a piping bag.
Once the buns have again risen, pipe crosses onto them before placing the tray into the oven to bake for 20 minutes, or until the buns are golden brown and spring back when touched.
To prepare your glaze, place the apricot jam and water into a small bowl and heat in the microwave for 30 seconds before mixing to combine.
Brush the glaze over the still hot Hot Cross Buns before carefully transferring the buns to a wire rack to cool.
https://mumslounge.com.au/lifestyle/food/make-hot-cross-buns-simple-recipe/
Have you made your own Hot Cross Buns before? 
What is your favourite Easter recipe?