Five Fabulous Books For Christmas Gifts ~ Confident Readers 7+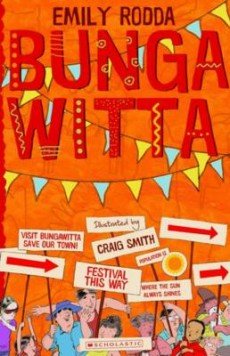 Enjoy this collection of varied and engaging literature for children who are ready to delve in to good quality chapter books. Inspiring stories, humorous tales and real life adventures this list has it all – delve in to find that perfect present.

Bungawitta
Emily Rodda
Bungawitta is a bright, uplifting tale charting a community in the Australian outback who pull together to save their town. Full of wonderful characters, humorous snippets and engaging dialogue this is a sure fire page-turner. The pencil illustrations from Craig Smith are a great touch, helping readers to visualise the many characters. Bungawitta is a truly enjoyable chapter book.

Christian the Lion
Anthony Bourke and John Rendal
This gripping true story has been written with a younger audience in mind. It is about two Australian friends, who in 1970s London, take advantage of the fact that you could buy absolutely anything in the iconic store Harrods – even a lion cub! Photos and narrative chart their exploits as they struggle to cope with the growing cub, and the actions they realise they must take in order to give Christian a better life. The reunion of the three of them in Kenya, years later, was filmed and became a YouTube sensation … google it! Christian the Lion is a fabulous story, perfect for those who'd like a change from fiction.

My Girragundji
Meme McDonald & Boori Pryor
Allen & Unwin
From Australian's inaugural Children's Laureate comes a fabulous chapter book tackling courage and confidence from our male character's point of view. With strong depth and pace, this is an ideal chapter book for young readers to immerse themselves in. Imaginative use of font, a gripping storyline and fabulous descriptions create a compelling read.

Just A Dog
Michael Gerard Bauer
Scholastic
Highly recommended for those moving on to slightly more detailed and complex chapter books, Just A Dog begins as a series of funny anecdotes of family life. It then develops in to a touching story capturing the thoughts and feelings of young Corey, all centred around the much loved dog, Mr Mosely. Spoiler Alert: Mr Mosely meets a sad end, but it is his death that pulls the family together. Shorter chapters make this manageable, the depth and pull of the story make it a fabulous piece of literature for young readers.

Who Am I? My Australian Story
Anita Heiss
Scholastic
Taking the Stolen Generation as its key theme, Who Am I? is a poignant, cleverly written chapter book which provides an insight into this period of Australia's history. The journal format will appeal to younger readers, who follow Mary on her journey from her home at Bomaderry to living with a white family near the city. The diary of Mary Talence is an engaging read, and a must read.
Full reviews and online price comparisons can be found at www.mybookcorner.com.au
Emma Perry is a freelance writer, reviewer and founder of the popular www.mybookcorner.com.au a children's book review and price comparison website. A Melbourne dwelling book lover, she can be found buried under a mountain of books.