Five Beautiful Books for Christmas Gifts ~ Emerging Readers 6+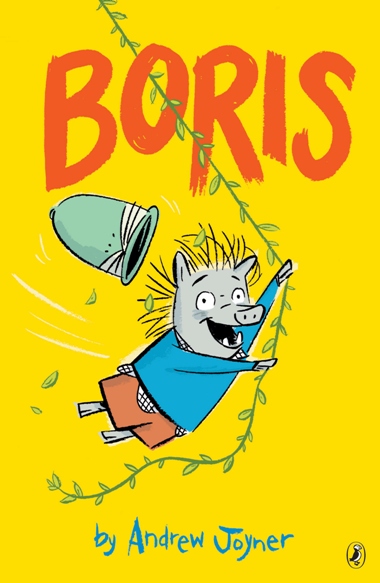 The school readers have been exhausted, and our young readers are just branching out on that road to independent reading. Chapter books hold big appeal, but they need to be at the right level so that they don't appear too daunting. Browse our list, presented in ascending order of difficulty, for some lovely chapter books to help little readers build on their new found confidence.

Boris
Andrew Joyner
Penguin
With four in the series, the slim Boris books hold a unique charm. Gender neutral, they follow the adventures of Boris, his friends and family. Presented alongside vibrant illustrations, the simple narrative is engaging. Dialogue is presented in speech bubbles, a great touch, which is perfect for developing understanding of speech in stories. An extra feature can be found in the endnotes of each one – a special activity for readers to complete themselves. This is a perfect way to encourage their engagement with the text in a fun manner.

Bille B Brown and Hey Jack!
Sally Rippin
Hardie Grant Egmont
On a similar reading level to Boris, Billie B Brown has enchanted many readers with her antics which have been perfect for girls who are 'over' the plethora rainbows and fairies. Now her friend is in on the act too, with a delightful set of slim chapter books aimed at boys – Hey Jack! Featuring black and white illustrations alongside large font, these slim chapter books are perfectly suited to emerging readers.

Figaro and Rumba & the Crocodile Café
Anna Fienberg
Allen & Unwin
This gorgeous, hardcover novel is a perfect next step up from the very slim chapter books. Figaro and Rumba is conveniently broken down in to four manageable chapters. It is a wonderfully told story featuring friendship and an engaging plot that builds steadily through the chapters. The illustrations are also a key feature, helping to add humour and lightness to the whole reading experience.

Violet Mackerel Series
Anna Branford
Ill. By Sarah Davies
Beginning with Violet Mackerel's Brilliant Plot, there are now four in this original and witty series. Each one features the dynamic Violet, a confident character who learns how to think for herself, and find solutions to different situations. The importance of family features heavily in the novels – especially Personal Space – where Violet learns to respect the feelings of her older brother when his mother prepares to re marry. Each novel is filled with skilful pencil illustrations by Sarah Davies, lending the books a more sophisticated air which is important for this age group. These are wonderful books for those who have moved on from the very slim chapter books.

Duck for a Day
Meg McKinlay
Ill. By Leila Rudge
Walker Books
This lovely chapter book is fun and quirky, with many subtlety woven messages. Meg McKinlay accurately captures that time of year when the class teacher must decide who will take home the classroom pet for the school holidays. Mrs Melvino is no ordinary teacher, and she takes many steps to ensure that her beloved … duck(?!) … goes home to the right person. With a fabulous message about friendship Duck for a Day is thoroughly enjoyable novel.
Online price comparisons can be found at www.mybookcorner.com.au
Emma Perry is a freelance writer, reviewer and founder of the popular www.mybookcorner.com.au a children's book review and price comparison website. A Melbourne dwelling book lover, she can be found buried under a mountain of books.