Reading About Bears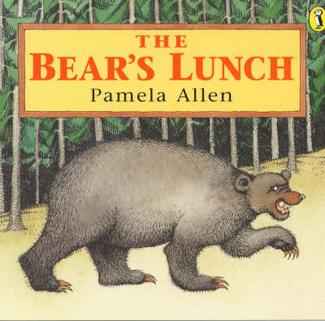 I spent some time today reading with Oscar, my 3 year old son. Being a child who knows his own mind, he chose the books from his very eclectic collection of books. We started off by reading one of those movie picture books, horribly abridged and terribly written. It struck me how hard it was to read out loud, it had no rhythm. It also had horrible big gaps in storyline, particularly obvious if you've seen the film a few times (which as it happens, I have…more than a few, try hundreds). The illustrations grabbed Oscar's attention, because they're so familiar, but that was pretty much the extent of its appeal.
What it did do though, was illustrate really well how delightful a well written kids book can be. The second book chosen for story-time was The Bear's Lunch, by Pamela Allen. I love Allen's work, and both the kids have always been pretty keen on them, and now I understand better why.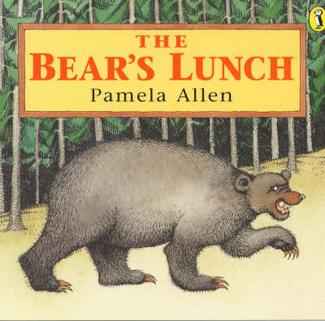 It was easy to read, a lot like a poem. I'd even go so far as to say it was a pleasure to read out loud, almost soothing. Oscar stopped wiggling (which is rare), and he stopped trying to turn the pages more quickly than I could read – because he was interested, but also because there was just enough going on on each page to hold his attention.
The story itself is really short, very few words and at times quite reliant on illustrations. I particularly liked the fact that a couple of pages in when the kids get settled for their lunch, you can just see a small black bear in the background – nice tension builder, great for playing 'spot the bear' and a lovely little detail. I've often heard children's book authors talk about how hard it is to tell a whole story in such a small amount of words, and I can see the art in it in this case.
In short, I might be digging around the book bin tonight to find the other Pamela Allen books, and they might get put on high rotation for a few weeks. Might even have to get a few more…
Do you guys have a favourite Pamela Allen book? Any other kid's books that are particularly lovely or well received by the kiddlies?
For more on all things bookish, visit That Book You Like… or follow on Facebook and Twitter.