Review – Dirty Deeds: My Life inside and outside of AC/DC By Mark Evans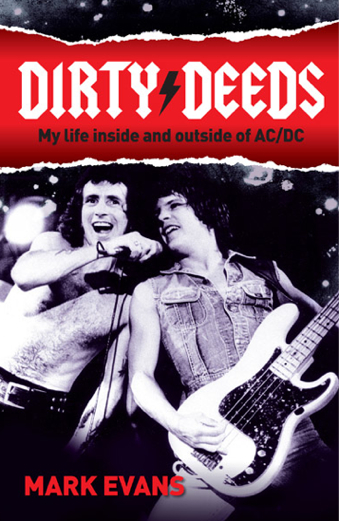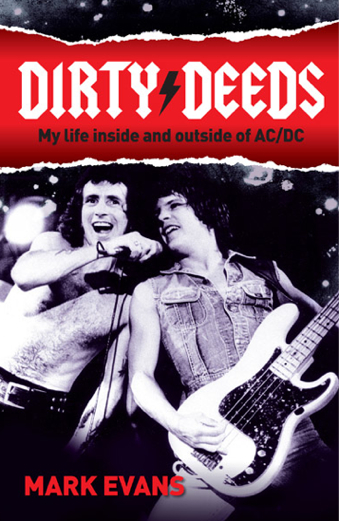 Dirty Deeds: My Life inside and outside of AC/DC
By Mark Evans
Allen & Unwin
ISBN: 9781742375793
The autobiography of Mark Evans, former bass player of legendary Australian rock band AC/DC, gives voice to a most remarkable time in Evan's life. Opening with his Melbourne based childhood, the impact of his father's death and moving on to his life-changing chance encounter with AC/DC, Evan's voice is clear and honest throughout.
Evan's detailed account of the touring and record producing days of his time with the band will be pure heaven to AC/DC fans, providing a genuine insight into life with the band 24×7. His candid descriptions of the atmosphere at different gigs, the occasional punch-ups and the alcohol fuelled lifestyle, are evocative and highly charged accounts of the music scene.
Most intriguing are Evan's portrayals of his fellow band members. Lead singer Bon Scott was someone he clearly held in high regard. The twenty something Evans clearly didn't understand many of Bon's 'ways', but the voice that now reflects, views them with much more clarity and head nodding. Particularly interesting are his comments and observations on the brothers in the band, and the mysterious Angus in particular. Portrayed as aloof, serious, and not very forthcoming, Angus appears incredibly complex. However Evan's goes to great pains to acknowledge his respect for Angus as a dedicated and highly talented musician,
'Let me tell you, Angus set the bar very high indeed.'
Very rare encounters with alcohol rendered him, in Evan's opinion chattier and open, leading to intriguing snatches of conversation revealing another side to his character.
The reader gains the sense that whilst Evans found his time with AC/DC fulfilling and certainly life changing in many positive ways, that wasn't without some serious undertones. Frequent references are made to a cold atmosphere which often pervaded the band, including a lack of connection between the band members. The high intensity of touring, working hard through each and every gig to establish the band resulted in a highly pressured atmosphere,
'What was demanded in AC/DC was 1000 per cent commitment.'
This is an intriguing portrayal of a band working its way up the ladder. Tellingly, it is when the book reaches the end of Evan's AC/DC career that the tone feels much freer, happier and subsequently gathers momentum. As Evan's reveals snippets of information about a long legal case, the reader can't help but wonder if that too has had some bearing on the tone.
Comedic episodes punctuate the final chapters from the vision of Pat Cash falling up Evan's spiral staircase, to the highly charged visit of George Harrison to his vintage guitar business.
Evan's voice is honest and reflective, revealing a man with an enviable ability to appreciate both sides of a situation. His final message of life, hope, and positivity is both poignant and uplifting.
Personally signed copies of Mark Evans' book can be purchased from www.markevansblues.com
Mums Lounge have 3 personally signed copies of 'Dirty Deeds' to giveaway in time for Christmas. To enter simply follow the instructions on the rafflecopter widget below.
Emma Perry is a freelance writer, reviewer and founder of the popular www.mybookcorner.com.au a children's book review and price comparison website. A Melbourne dwelling book lover, she can be found buried under a mountain of books .