AMAZING Deals on School Holiday Activities the Whole Family Will Love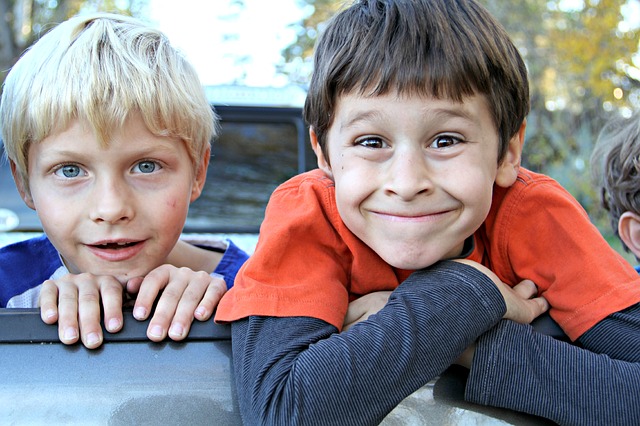 AMAZING Deals on School Holiday Activities the Whole Family Will Love
Is it just us, or did these school holidays come around really quickly?
Now that Spring is here, most of us are excited about getting out of the house and spending some quality time together as a family.
School holidays, as we all know, can end up being a fairly expensive couple of weeks. (Seriously, do they ever stop eating?) Fortunately, there are some great bargains to be had in and around your nearest city these school holidays, if you know where to look!
If you are yet to discover Scoopon, you are in for a treat! They have some amazing deals, so no matter what your budget, you'll be able to plan a fun day out (or four!) If you are a lover of Scoopon from way back like us, you're probably already mentally compiling a list of friends that you can share this article with so you can co-ordinate some fun outings together!
What are you waiting for? Grab yourself a deal, pack a lunch and get out and enjoy the school holidays! They won't even miss the iPads with all this fun to be had!
Brisbane
Full Day of Unlimited Mini Golf and 2 Rides at Top Shots Fun Park on the Sunshine Coast! Just $12 for 1 Person or Upgrade to a Family Pass – Only $39 for 4 People! Buy up Multiples!
Play as much mini golf as you want over one fun-filled day as you putt your way through two 18-hole mini golf courses set in beautiful scenery – then get your thrills on two rides of your choice! Have a blast on the blaster boats, go ballistic on the cannon ballblaster, get some air time on the extreme vertical trampoline or climb to the top of the indoor rock climbing wall! Buy as many as you like – great for school holiday fun! Open every day!  BUY NOW
Trail Riding & Farm Life Adventure with Gummies Farm Tours in Biddaddaba – $35 for 1 Child, or $45 for 1 Adult!
Head to Gummies Farm for a unique experience. Fun for kids and adults alike! Enjoy a 90-minute horse trail ride; boomerang lesson & whip-cracking demo; have a turn feeding farm animals & milking a cow; and sit down to a morning or afternoon tea of damper & tea! Gummies Farm is a 140-acre horse farm in the Biddaddaba Valley – Take the kids on an unforgettable journey and see its old-world splendours! Available 7 days a week!  BUY NOW
Try Your Hand at the Awesome Game of SUPA GOLF at Sirromet Winery in Mount Cotton – Just $7 for Kids, $9 for Adults or $29 for the Family!
Supa Golf: The perfect blend of the fun of mini-golf and the skill & style of golf! Play the 9-Hole Supa Golf course at the gorgeous Sirromet Winery! Supa Golf clubs are lightweight, with oversize heads, and the balls Are brightly coloured and oversize too – perfect for beginners, or a bit of out-of-the-ordinary golfing fun! A perfect family activity for a winery day out – buy multiples & bring the gang!  BUY NOW
45-Minute JETPACK / JETBOARD / JETBIKE Experience on the Gold Coast or Sunshine Coast – No, Seriously – ACTUAL JETPACKS!
Take flight on an actual, seriously, really, truly JETPACK on the Gold Coast OR Sunshine Coast! Choose from jetpack, jetboard or jetbike – These water-powered flying machines will blast you up meters above the water! Includes training & waterproof comms helmet, to keep in touch with your instructor while you're In flight, or just crank Eye of the Tiger! THE FUTURE IS HERE – Book the flying experience of a lifetime – JUST $99!  BUY NOW
Melbourne
Full Day of UNLIMITED Rides at Funfields – JUST $27 Per Person! LET'S GO!
Thrill the whole family with a HUGE range of super-fun wet and dry rides including Typhoon (World's Longest Cannonbowl Waterslide), Wacky Waters Playground, Blackbeard's Fury Pirate Ship, Mini Golf, Go Karting & lots more! Buy as many Scoopons as you like & have a blast with friends again & again!  BUY HERE
Head for PlayHut Indoor Play Centre – Play Passes from Just $5, or Upgrade for Multi-Passes or a Catered Kids' Birthday Party Package
PlayHut is a west-side children's indoor play and party centre that your kids will love, with trampolines, ball pit, merry-go-round, cars, ball cannons, toddler area and more! Grab a play pass Scoopon for just $5 – or upgrade for a 3x pass for $12 or 5x pass for $18 – perfect for multiple kids or return visits. Got a birthday party coming up? Upgrade again for a catered 1.5-hour birthday party package for up to 10 kids, in a themed room, complete with classic kids' party food and invitations, for just $89. Fairy, circus, pirate or purple/green themes available. Got kids? This one's a no-brainer!  BUY NOW
Sail Melbourne's Waterways and See the City's Top Landmarks on a 1-Hour River Cruise – Just $6 Per Child or $13 Per Adult! Buy Multiple Scoopons! 
Choose your sail! Cruise down river from the arts precinct, past Melbourne's Ports and Docklands while you take in the shipping channels and marvel at luxury homes! Head upstream instead for a scenic route along the Botanical Gardens, Melbourne Park and Herring Island, with lush greenery and beautiful natural landscapes along the banks! Sip on complimentary tea and coffee during your journey while you're entertained with informative and witty commentary from your captain! Plus, children aged 3 and under ride for free with an adult! Cruises depart 7 days a week – buy multiple Scoopons for fun everyone will enjoy!  BUY NOW
Single Flight on the Melbourne Star Observation Wheel – Only $20 Per Adult or $15 Per Child!
Take a flight of discovery through the Melbourne skies and see the city from a different perspective on the Southern Hemisphere's only giant observation wheel! Offering 360-degree views of Melbourne, you'll enjoy unobstructed vistas of up to 40km through floor-to-ceiling windows! Open daily – grab multiple Scoopons to enjoy both the day and night flights! Get In now for the school holidays!  BUY NOW
Sydney
The Iconic Canterbury Olympic Ice Rink Saturday Disco Skate is Here! Kids Skate for Just $9 and Adults for $11 – or Get a Family Pass for Just $35!
Put on your best & warmest disco gear, and get out on the Ice at the Canterbury Ice Rink's Saturday Night Disco Skate! Includes skate hire & awesome DJ'd tunes – Every Saturday from 8:15pm to 10:45pm! Buy multiples, grab the gang and practice your glide on the ice! MEGAValue and EXCELLENT Fun!  BUY NOW
An Unforgettable Horse Riding Adventure with the Sydney Trail Riding Centre in Richmond for ONLY $29? READ ON!
Enjoy a 1 hour guided trail ride through the rolling hills and landscapes of the Sydney Polo Club and the Hawkesbury river! Hop on one of the magnificent showbiz horses – the only Australian riding centre with horses featured on TV, movies and commercials! Perfect for riders of all levels of experience – fun family activity just an hour from the CBD!  BUY NOW
Two-Hour Action Pass to Play Bowling, Laser Tag and More – Just $20! Unlimited Entertainment for Everyone! Buy Multiples to Go Back Again – Great Activity for School Holidays!
Enjoy 2 action-packed hours of exhilarating fun at AttracTivity Entertainment in Alexandria! Challenge your mates with ten pin bowling, race around the dodgem track and watch out for your enemies as you make your way through the laser tag arena! There's heaps to do, so pick up some Scoopons and come in for unforgettable fun! Purchase multiple Scoopons and keep coming back – open 7 days!  BUY NOW
ONLY $7 for a Game of Bowling Per Person PLUS Shoe Hire!
Take the kids (the big ones too) down to Manhattan Superbowl for a game of bowling in an alley decked out with a funky happy days décor and 60s theme! There's even a diner and an arcade to keep you entertained! Buy up to 10 Scoopons for you! Open 7 days till late!  BUY NOW
Adelaide
See The Secret Life of Pets, Storks, Miss Peregrine's Home for Peculiar Children or Pete's Dragon at the Historical Capri Theatre These School Holidays! Just $5 for a Kid's Movie Ticket, $9 for an Adult Ticket or $25 to Take the Whole Family!
Early bird special for school holiday fun – grab your Scoopon by 9 October! Sit back and relax in the beautiful, heritage-listed Capri Theatre as you watch a movie with the kids these school holidays! Buy multiple Scoopons to see all the movies on offer – choose from The Secret Life of Pets, Storks, Miss Peregrine's Home for Peculiar Children or Pete's Dragon! Great Goodwood location, just minutes from the CBD!  BUY NOW
Magical 2-Hour Dolphin Cruise With Lunch and a Drink on Port River – Just $13 Per Person! Upgrade to 2 or 4 People!
Soak up the sights as you enjoy a leisurely cruise down Port River and try to spot as many dolphins as you can! Learn about these clever animals and their environment throughout the cruise with informative on-board commentary! Plus enjoy a delicious lunch of your choice and a soft drink on board! Want to take a friend or 3? Upgrade to 2 people for just $25 or 4 people for only $49! Ideal experience for families and wildlife lovers!  BUY NOW
Exhilarating Quad Biking Adventure Tour of Waitpinga Farm – Just $109 for 2 People!
Head to Waitpinga for a guided tour through 400 acres of beautiful farming country! Explore the historical working farm on quad bike and visit the local farm animals! Cruise through grassy plains and rugged creek crossings while admiring the stunning ocean views and natural landscape during your 1.5-hour ride! No experience necessary – unique activity the whole family can enjoy!  BUY NOW
Perth
Head on a Cosmic Stargazing Experience at The Space Place – Just $25 for Adults, $15 for Kids or $75 for Families!
Enjoy a night under the stars at The Space Place Observatory for an out-of-this-world experience! Located in the scenic town of Julimar near Toodyay, The Space Place will guide you to learn more about outer space, as well as to inspire you with brilliant views of the night sky. Treat yourself to a Scoopon for just $25 for adults, $15 for children or $75 for the whole family (2 adults and 2 children). A fantastic weekend night out for all to enjoy!  BUY NOW
Sign up for a Tyrannosaurus-Sized Amount of Fun at Triassic Fun Park! Get a 1 Visit Play Pass for Just $5! Upgrade for More Visits!
Get ready for fun, fun, fun! Have a dino-themed adventure at Triassic Fun Park – It's at least three times more fun than Jurassic Park and the dinosaurs won't try and eat you! Get a 1 visit play pass for just $5! Upgrade and get 3 visits for only $12 or a 5 for just $18! Want to have an awesome themed birthday party? Only $149!  BUY NOW
ALL-DAY Adventure World Pass with UNLIMITED Rides – Just $45 Per Person! Buy Multiple Scoopons! Perfect Family Fun!
Adventure World is Perth's Only Hybrid Theme Park/Water Park and it has Recently Opened Kraken, a $7 Million Mega Funnel Waterslide – One of the Tallest, Steepest and Longest Funnel Waterslides on the Planet! Can You Escape the Clutches of the Kraken? Buy Multiple Scoopons and Take the Whole Family! Valid 'til 25 April 2017 – Go for the School Holidays!  BUY NOW
Keep Your Kid Busy in the BEST Way at the Atlantis Play Centre – Entry from Just $5, or Upgrade for 3x, 5x or UNLIMITED YEARLY Passes! OR Upgrade for a Mega-Fun Catered Themed Birthday Party for up to 10 Kids!
A ball pit, inflatables, motorised rides, slides, mazes, bouncy castles, giant tubes, climbing frames and a huge range of baby/toddler fun – It's all on for young and younger at Atlantis Indoor Play Centre in Clarkson! Entry is free for adults, and you can hang in the centre's cafe-restaurant, with healthy, fresh food on offer! Snag a single play pass for just $5, or upgrade for a 3x, 5x or yearly unlimited entry pass! Upgrade to the party package for an awesome themed birthday party for 10 kids, with food, host, party bags & more!  BUY NOW
Terms & Conditions apply. Offers are valid for a limited time only, while vouchers last. For full details of each offer visit www.scoopon.com.au