Tips for Stress Free Dining Out with Children – PLUS How to Save up to 40% off Your Bill!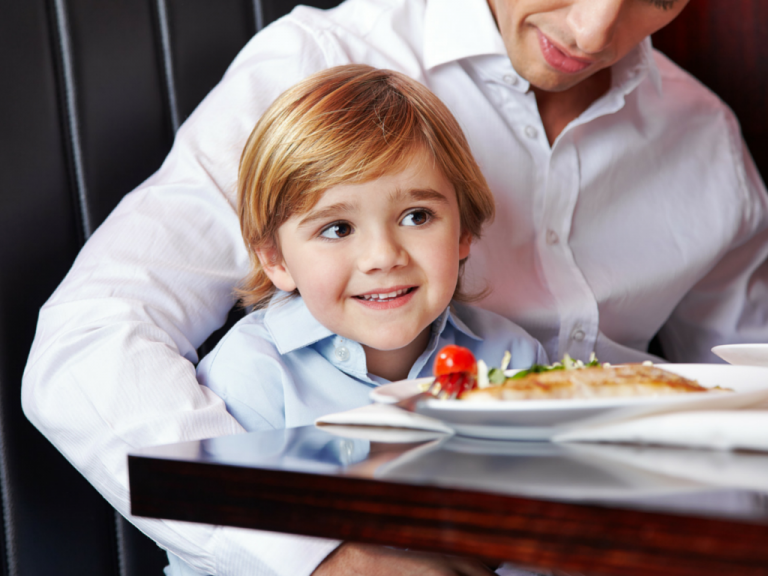 Sponsored post
Tips for Stress Free Dining Out with Children
We all love a night off from the cooking and the dishes now and again don't we? But, when you have small children the thought of taking them out to a restaurant to eat can be a little overwhelming – unpredictable and noisy as they can be!
But before you reach for that takeaway menu instead, we've put some super easy tips together for you to take the stress out of dining out with small children. With a little forward planning dining out can be an activity the whole family enjoys.
Pack Some Activities
Between ordering your meal and waiting for it to arrive, it's a great idea to encourage your child to engage in a quiet activity. A colouring book and some crayons or colouring pencils are worth their weight in gold for keeping little people happy, as are books.
Practice Good Table Manners
Little people are constantly learning, and mealtimes are no exception. They learn how to sit, how to eat, how to hold their cutlery, how loud to talk etc, and this starts at home. Children who sit down at the table to eat with their family daily, and are given an opportunity to observe and practice good table manners are more likely to understand what is expected of them in a public setting.
Check the Menu Online
Many restaurants and food venues have their menu's online. Planning before you arrive what you are going to order can save you precious time sitting at the table.
Choose the Right Restaurant
Choose a restaurant that is suited to your family needs and have realistic expectations. Do they have meals suited to your child? For example, a spice house with a toddler may not be the best choice!
Don't Leave it Too Late
Nobody likes being tired and hungry – least of all children. Booking a table for the earliest time available often means that you'll beat the rush (and cut down your waiting time for meals to arrive) and ensure that your child has a chance to eat before they get cranky. Win! Win!
Don't try to wing it! Book the table ahead of time. Being prepared and planning ahead can minimise stress and ensure an enjoyable dining experience for all involved – your family and other diners included.
How to Make Family Date Nights More Affordable
Yumtable provides a quick and convenient way to book a table at a restaurant, bar or similar venue, using either their website or smart phone app. By searching for a specific restaurant, or looking up what is available in a specific location, you can quickly check availability and book a table for your preferred time.
You can even search depending on your budget, or your favourite cuisine type!
Furthermore, Yumtable also shows you which restaurants are offering discounts and special offers to Yumtable users. With some venues offering up to $40 off your total bill! No vouchers or paperwork necessary – the discount will automatically be deducted from your bill at the end of the meal – making family date night much more affordable!
Discloure.  This post is sponsored by Yumtable.