The Warwick Rowers Pose Naked For Another Cheeky Calendar!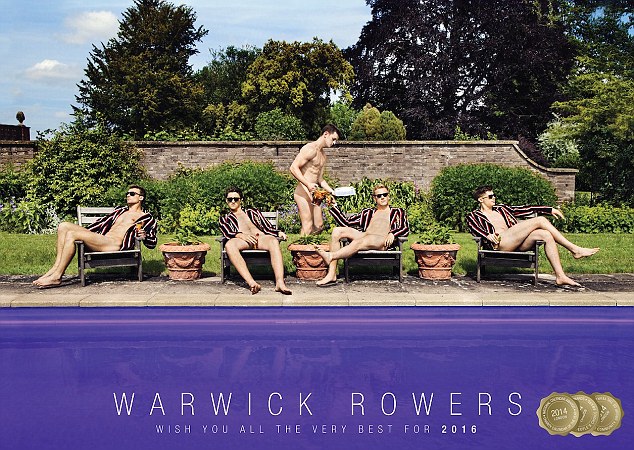 The Warwick University Rowing Club has released its 2016 charity calendar – and by the look of it, it could be the steamiest one yet.
Male students have posed nude – proudly flaunting their bottoms, six-packs and toned thighs – in a bid to raise funds for Sport Allies, which works to combat homophobia in sport.
The fund raising calendar has gained a strong celebrity following since it began in 2009 and is loved by famous faces including Sir Ian McKellen, Stephen Fry and Kylie Minogue.
Six years ago, the rowers at Warwick University were just a middle-ranking sports club without a lot of funding.
Then in 2009, they decided to release a naked calendar to raise some-much needed funds for boat repairs and new equipment.
Since then the initiative has gone on to be sold in 80 different countries and has raised £300,000 for good causes, including £50,000 for Sport Allies.
As well as the calendars, the boys now have their own range of posters, T-shirts, art prints, hoodies, and greeting cards. This year they have also created a coffee table book of their best prints.
The men pride themselves on producing high quality products on a shoestring and the club still needs help to cover costs.
Tristan, who works on the calendar on both sides of the camera, explained the importance of crowdfunding to the project: 'We're basically a fundraising project – the money that comes in goes straight out again.
'We're not sitting on some vast pile of cash, and we need to pay for production of the next year's calendars, films and everything else.
'So every summer we come up with great deals and unique offers that make it possible for us to cover our costs and get the best value from our suppliers, so that as much of our revenue as possible can go where its needed. It also means our supporters get a great deal!'
The calendar is priced from £14.99, see warwickrowers.org for more information.
You're welcome!
Photos courtesy on news.com