Whats on August – VIC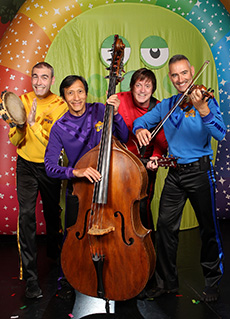 The Wiggles meet the Melbourne Symphony Orchestra
Friday 24th August at 4:30pm
Saturday 25th August at 10:00am and 12:15pmn
Arts Centre Melbourne, Hamer Hall

As part of their Celebration World tour of shows The Wiggles and Melbourne Symphony Orchestra will join forces in a world first limited run of shows at the iconic and newly refurbished Arts Centre Melbourne, Hamer Hall this August.

Melbourne Writers Festival
essions start of the 27th of August

Family events are available as part of the Melbourne Writers Festival

Carlton – "Send in the Clown" with the Clown Brigade
Sunday 5th August 11am and 2pm (45 mins) All tickets $12 | Recommended for ages 2 – 102!

Bookings through 9347 6142 or http://lamama.com.au

"Roll up, Roll up" and join The Clown Brigade as they adventure across the seas on their mission to bring laughter to the world.

PHYSICS AND LASER DEMONSTRATION
When: Sunday, August 19 2012, 12:00 PM to 1:00 PM Where: Laby Theatre, David Caro Building, Swanston Street, University of Melbourne, Parkville, VIC, 3052 Cost : Free
The Physics and Laser Show is internationally acclaimed – don't just ask why, find out for yourself. This spectacular display of sound and light is great for all ages. Introducing physics in an exciting and informative way is the aim of this highly popular program. The program consists of a fascinating production by outstanding presenters from the School of Physics, it consists of carefully selected demonstrations of basic physics phenomena with lots of audience participation!
More Information
Hoyts Jnr Presents ~ Thomas & Friends: Blue Mountain Mystery
Showing at Hoyts cinemas in ACT, NSW, QLD, SA, VIC and WA from 21st of July until the 16th of September.

Discover the mystery of the lost engine and be introduced to the exciting new destination Blue Mountain Quarry! In this action-packed adventure, Thomas discovers a new engine hiding in the tunnels, and sets off to uncover the truth and get to the bottom of the mystery. Along the way he meets four new engines bought to Sodor from faraway lands… Will Thomas piece together the story and convince his new friend there's no reason to hide? Find out at selected Hoyts cinemas from 21 July! More Information

Hairspray
From Wednesday, 01 August 2012 To Saturday, 04 August 2012

In Hairspray it's 1960's – the 50's are out and change is in the air.
Baltimore's Tracy Turnblad, a big girl with big hair and an even bigger
heart, has only one passion – to dance. She wins a spot on the local TV
dance program, 'The Corny Collins Show' and, overnight, is transformed
from outsider to irrepressible teen celebrity. Children under 16 years have reduced ticket prices from $29.

State Library of Victoria – Play Day
Wednesday 15 August 2012, 10:00am – 1:00pm

Celebrate Playgroup Day at the State Library with hands-on activities, Library tours, a special guest author and storytime.

Annie
From Wednesday, 01 August 2012 To Sunday, 12 August 2012

Experience the timeless tale of a little orphan named Annie in this classic musical about never giving up hope.

Scienceworks – Little Kids Day In
Monday 6 August 2012

A new series of fun days especially for kids aged under 6 years, their parents and carers. Bring your little kids to Scienceworks and enjoy a day of fun activities – without the school groups!

National Gallery of Victoria – Art Sparks: Rare creatures and puzzling plants
Saurdays, starting 11th August from 10.30 am – 12.30 pm

Meet us on Saturdays, discover your gallery and have fun creating art. Parent/carer supervision required. Ages 3+ What would you do if you discovered a plant or animal you had never seen before? Record it in a picture of course. Draw, cut and paste to create a rare creature or plant.
Written by www.whatson4littleones.com.au.