Whats on June – QLD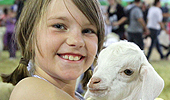 Come along with Elmo and the Sesame Street
gang as they circle the globe in this all-singing, all-dancing stage
show touring Australia in 2013. Abby Cadabby, Big Bird, Grover, Zoe,
Cookie Monster and Elmo use the letters of the alphabet to navigate a
voyage through imagination that sees the gang visiting China, Zambia,
France, India and Australia!

Enter a world of wonder where heroes and hearts prevail. Join Ariel as
she yearns to explore the world above the waves and watch as Prince Eric
breaks Ursula's slithering spell to reclaim his one true love.

See Prince Philip defeat the evil Maleficent as she transforms herself
into a fire breathing dragon in a race against time to rescue Sleeping
Beauty's Aurora. Be there to discover a whole new world with Jasmine and
Aladdin, and watch in awe as the dreams of Cinderella, Belle, Snow
White and Tiana all come true. High-flying jumps, daring acrobatics,
breathtaking skating and lovable Disney friends are just a wish away.

There is even a special appearance by Disney's newest princess,
Rapunzel!

Jimmy Giggle, Hoot the Owl and their best owl pal Hootabelle are coming to QPAC for their first ever live stage show, Giggle and Hoot and Friends.

Join Giggle and Hoot for this full-on 50 minute Giggle-liscious stage spectacular will be your favourite ABC characters, Bananas In Pyjamas and LazyTown.

Bananas In Pyjamas, those lovable pyjama wearing fruit B1 & B2, will be up to their usual antics and bound to entertain with their humorous and whacky sense of fun.

Your friends from LazyTown, the slightly above average super hero Sportacus and Stephanie, will sing, dance and flip their away across stage with some awesome high flying acrobatics.

Giggle and Hoot and Friends – Live on Stage is a must-see HOOT-TASTIC attraction for the whole family.

Slava's Snowshow is a breathtaking spectacle of beautifully crafted comic images, restoring childish wonder in people of all ages.

Following his sensational performance as part of Cirque du Soleil's Alegria, Slava went on to create his own Slava's Snowshow
which has become a multi award-winning international sensation,
delighting and thrilling audiences in more than 80 cities around the
world, from London's West End to Sydney and from New York to Moscow. Recommended for children 8 years and over, strictly no admittance to children under 3 years of age.

Dodge laser beams, build a telescope, freeze your shadow on a wall or paint with Infrared. The new Sciencentre exhibition, Playing with Light, has full-body interactive exhibits that take you into the bright and colourful world of lights, lasers and lenses.
With over 22 interactive exhibits, Playing with Light explores the role light plays in our life and in our world. Prepare to be illuminated!
Kids can tackle a smoky maze of lasers as you try and weave and duck your way across a room, dodging lasers without setting off alarms. Be a budding artist as you 'paint with light' and create colourful creations using an infrared paint brush and virtual canvas. Experiment with lenses, mirrors, prisms and light in the Light Lab. Freeze your shadow on the wall. What shape shadow will you make? Catch it before it fades away. Open until July.

SNOW WHITE will be presented, live on stage, at the Princess Theatre,
from Tuesday 25th June to Tuesday 2nd July
at 10 am and 1pm daily.

Based on the original Brothers Grimm fairy-tale, SNOW WHITE has been
adapted to the musical stage for a cast of twenty five singers, dancers
and actors. SNOW WHITE is wonderful holiday entertainment for Brisbane
audiences of all ages, and at prices that families can afford. All
tickets at children's prices.