Jolene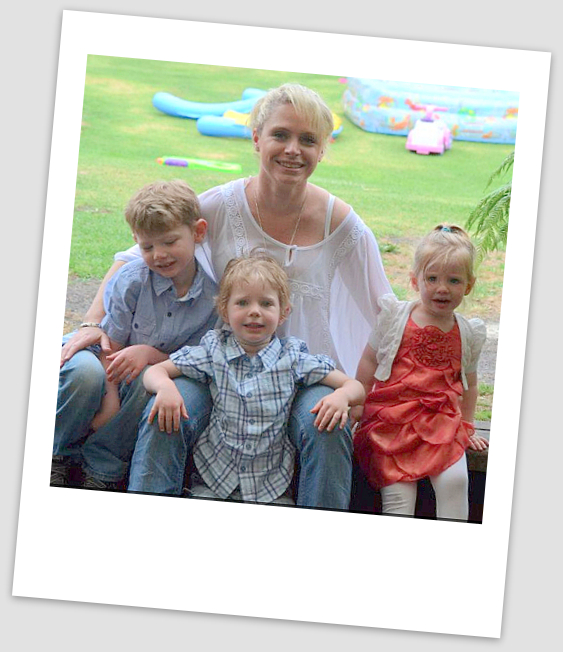 Jolene Humphry – Resident Blogstar

My Family
I am a stay-home mum of three wonderful, beautiful (and often exhausting) children, who fill my days and life with sunshine, laughter, nappies and the occasional vomit.  Whilst motherhood might not be the most glamorous stage of my life, it is for me, my greatest challenge and finest reward.  They are quite simply my pride and joy.  Angela Schwindt's famous quote sums up my feeling about motherhood perfectly;
While we try to teach our children all about life, Our children teach us what life is all about.
I am also the proud owner of a hubby-deluxe (1976 model).  I'll admit I tried to make a few minor alterations in the early years, but he remains largely in his original state – complete with his own hideous lack of dress-sense and Peter Garret-style dance moves.  Although these days he has a few dints and rust spots appearing, I wouldn't change him for the world.  He is the love of my life and a wonderful father to our three children.
The Humphry family also includes our two border collie cross blue heelers, Barnie and Darls, our extremely talkative (and mildly irritating) cat Gandalf and the six goldfish who live in the pond outside (all of whom are called Bob!) Dislikes:
Racism, intolerance and small-mindedness
Toilet training
Hubby's toenails
Running out of Tim Tams
Likes:
Sunshine, lollipops and the sound of my children's laughter
Thinking up new and innovative ways to avoid doing housework.  (None of which have been successful to date, but a girl can dream can't she?)
Relaxing after a hard day in a warm bath with smelly bubbles and a good book. (N.B.  Just to clarify, I am referring to pleasant scented bubble bath…not the other kind of smelly bubbles!)
Aspirations:
When I grow up I would like to be a children's author.
Favourite Quote:
Lucky that my breasts are small and humble
So you don't confuse them with mountains
(Shakira, Whenever, Wherever)