Beauty Treatment Review: Everything You Need to Know About Dermapen Microneedling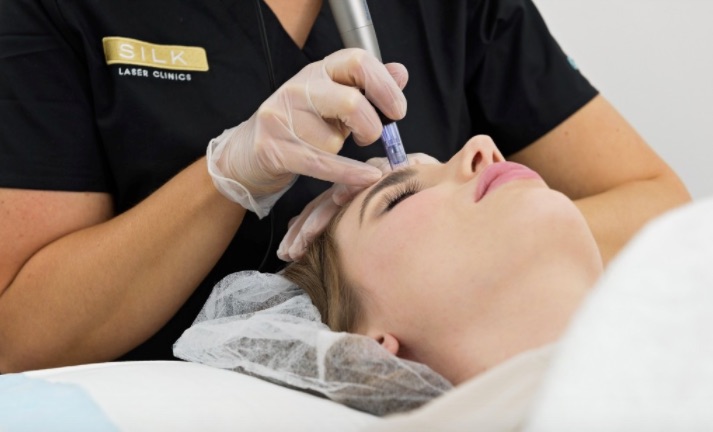 Beauty Treatment Review: Everything You Need to Know About Dermapen Microneedling
Sponsored post
Microneedling may be the hottest skincare treatment right now, but what is it, and does it work?
Whilst it may be the beauty treatment on everyone's lips, microneedling (also known as collagen induction therapy) isn't new and certainly isn't a fad. Dermatologists have been using the procedure for decades to treat scarring, but it is also an effective treatment for stretchmarks, discolouration, fine lines and general skin rejuvenation.
Basically, as the name suggests, microneedling involves tiny (micro) needles which are used to puncture the skin to create micro channels (tiny holes). This essentially stimulates your skins natural healing ability by tricking it into sending fibroblasts to the area (just as it would with larger wounds to facilitate healing) which creates more collagen and elastin. The result? Thicker, plumper skin and softened scars.
Not too keen on the thought of having tiny needles puncture your skin? I must confess, neither was I. So when I was recently invited to the SILK Laser Clinics in Henley Beach, South Australia, to try out the procedure for myself, I totally chickened out and convinced a friend to come along and be my guinea pig.
Unlike the traditional roller style tool that most places use, I explained to my friend Lisa, SILK Laser Clinics use a Dermapen.
The benefit of the Dermapen over the roller, as you can see, is that it makes a smaller more precise puncture into the skin. Whilst the roller has a flick and tear effect on the skin causing more bleeding and greater epidermal damage, the Dermapen  on the other hand results in less pain and virtually no downtime. Whilst I still remained sceptical, fortunately Lisa was more than happy to lend me her face for the sake of the review. Hooray for friendship!
The Observ 520 Skin Analysis
Arriving at SILK Laser Clinics, Lisa and I were greeted by a friendly, experienced skin technician who took us through to a consultation room to determine if the Dermapen treatment was suitable for Lisa's skin. This was done with the aid of the Observ 520. Despite sounding like something you might find at NASA to look out into the far reaches of space, the Observ 520 is actually advanced camera technology that allows skin technicians to see deep into the layers of the skin to provide a greater understanding and evidence of underlying skin concerns. This powerful diagnostic knowledge allows clients, along with their SILK Laser and Dermal Technician to take both preventative and restorative action utilising the right products and skin treatments to impact and benefit the health of their skin.
For this procedure, Lisa was asked to place her head inside the canopy and hold still whilst a sequence of 6 photographs were taken.
These photographs were then viewed on an iPad device (and emailed directly to Lisa) so that the SILK Laser and Dermal Technician could view and identify skin concerns such as fine lines and wrinkles, oils, pores, pigmentation, hydration and vascularity, and tailor an individual skincare plan for her.
Daylight Mode: illuminates the skin in even light providing a base image for future evaluation and comparison.
Cross Polarised Mode: identifies redness and discolouration in the skin, such as rosacea, acne, vascular capillaries, sensitised areas, and pigmentation.
Parallel Polarised: enhances the skins surface textures, highlighting pores and wrinkles. Surface roughness and bumpiness, dehydration and hyperkeratosis (thickening of the skin).
True UV Mode: identifies hidden skin conditions beneath the skin's surface. Provides insight by showing your pores, sebum (oil and wax) and gland activity, thinning of the skin, scar tissue growth and hyper pigmentation.
Wood's Mode: the blue light of this mode shows up skin lipids/oils and all congestion in the skin.
Complexion Mode: using the cross polarised image and amplifying impurities – this mode models how the skin will look without intervention by forecasting the skin's condition in 10 years' time.
The SILK Laser and Skin technician, Rebecca, took Lisa through each image and prescribed a treatment plan tailored to her specific skin needs, combining an advanced skin treatment (namely Dermapen with Mesotherapy), and a range of results driven cosmeceutical skincare on offer at the SILK Laser Clinics.
Lisa's Observ assessment reveals (in the parallel polarised image) the texture of her skin, – fine lines , visible pores and scarring indicating that Dermapen (Collagen induction therapy-skin needling) would be the go-to in-clinic  treatment.

In the Woods mode it shows the lipid film distribution of the skin where there was no apparent oil at all suggesting increasing the collagen and elastin production within the skin and also topically.
The final image also showed the inhomogeneity of skin tone with the visible indications of childhood sun exposure resulting in freckling.
I recommend Lisa start on the Aspect Dr Deep Cleanser as this exfoliating cleanser will assist in cell turn over.
Lytera is an awesome  moisture protective containing vitamins A,B,C and a Tyrosinase inhibitor for lightening and evening out skin tone. This is the Rolls Royce of skin care! When combined with  a Retinol (Vitamin A) this forces cell turnover and is anti-aging.
Aspect Dr Eyelift as I cannot stress enough the importance of eye creams to strengthen the structural integrity around our eyes that are one of the first areas to reveal aging.
Lastly the tinted O Cosmedics Mineral Pro as an SPF.
For in clinic treatments I would recommend a series of Dermapen treatments in combination with Peels to optimise of the  evening of texture, tone, minimize scarring and increase hydration.
Dermapen with Mesotherapy
Having established that Dermapen microneedling could help minimise the acne scarring around Lisa's chin, and help eliminate fine lines and visible pores (all issues that Lisa had herself identified as personal skin concerns) we moved to a different treatment room and were introduced to the qualified technician who would be performing the procedure.
The oscillating needle head creates micro channels in the skin to achieve two outcomes:
Cause small trauma to the skin to prompt its natural healing response and stimulate the production of collagen and elastin to improve the skin's texture, health and appearance.
The micro channels allow the Mesotherapy (vitamin rich serum which allows the Dermapen to glide on the skins surface) to penetrate deeply into the skin. SILK Laser Clinics use specially formulated and prescribed Hyaluronic Serum to hydrate and plump the skin partnered with a vitamin infusion that is selected depending on your desired outcomes.
Although Lisa visibly winced a few times initially as the bony area of her forehead was treated (apparently this is the most painful area and the best bit to get out of the way first), she later relaxed and (much to my surprise) didn't show any signs of pain or discomfort when the other areas of her face were done.
Of course, the first thing I asked Lisa when it was over was how painful the experience had been.
'I was calmly prepared for high pain experience as the consultant had explained in detail what to expect and boy was she right about the worst pain level being on the forehead. I was so pleased they started here to get it over and done with. The rest of my face treatment was no real problem at all, in fact I'd describe it as uncomfortable, not painful.' 
At the end of the procedure Lisa's skin looked sunburnt, but (again, to my surprise) wasn't bleeding as I'd expected.
A HYLA ACTIVE (Moisturising) mask was applied for 10-15 minutes…
and some mineral make up applied…
and Lisa was ready to go about the rest of her day. (No hiding away from public as I had expected!)
Lisa's Review
I expected my face to feel red raw after the treatment but was surprised that it really did only feel like sunburn, just as the consultant described. You know that feeling…radiating heat and tight. After a few hours though it was only noticeably hot and a little tender when I touched my face and I remember being jolted to reality of 'oh yeah that's right' each time I did touch it as I wasn't conscious of any pain or discomfort otherwise.
I also expected my skin to look like a bloody pin cushion but again was surprised that the needle puncture marks weren't that bad at all and easily covered by a light dusting of mineral makeup.
I went out for dinner the night of the treatment and was fine!
The next day or two my skin felt gritty and still tender to touch but my skin care and makeup routine was totally manageable.
Within a few days right through to now (2 -3 weeks later) my skin looks noticeably fresher  and more youthful. My makeup stays on better too.
With this result after just 1 treatment of the recommended 4, along with the current/ future skin condition shown in the Observ 520 and awareness of old scar tissue improvement, I would definitely continue this treatment, even with knowing what I was to go through this time, as I'm excited with what the final outcome would be!
Dermapen is 20% OFF at SILK Laser Clinics (includes FREE Observ 520 Skin Analysis) this month.
Full face now $239 (Was $289) – Offer ends 30 April

Find your nearest clinic here
Have you tried microneedling? How would you describe the experience and the results?