3 Ingredient Curried Lamb Meatballs Recipe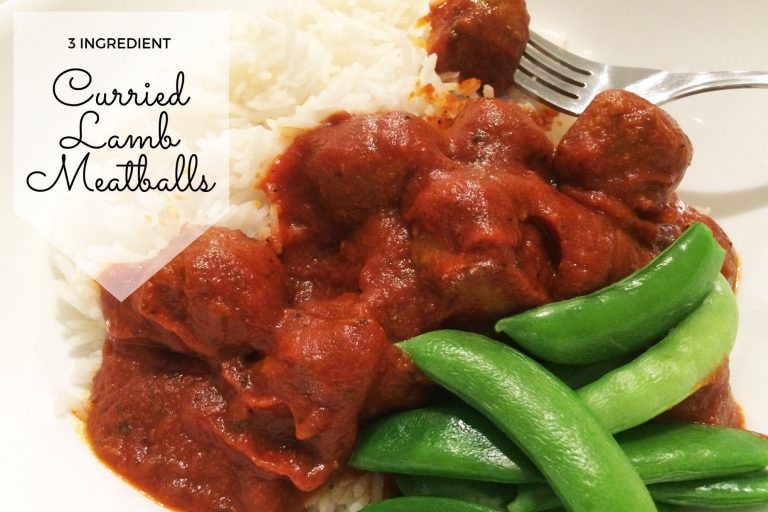 3 Ingredient Curried Lamb Meatballs Recipe
You read that correctly – just three ingredients! Crazy, right? I know. I can hardly believe it myself. This fabulously delicious tomato curried lamb meatball dish is made with three ingredients.
Let me tell you a little story. Won't take long, but it will help explain how I came up with this. Those of you that are familiar with this column know that I love a bargain. Those little reduced stickers in the supermarket call to me like a siren. I scan the shelves looking for them, and lo, there they are.
Sometimes they are great – a dozen eggs for 99c or a packet of camembert for $1.30. I can always give them a good home. But then one day I came across a packet of lamb koftas for half price – just $3! I had no idea what to do with them, but I couldn't pass up that deal! So into the deep freeze they went until I figured it out.
Well, I finally figured it out.
This is what I came up with – 3 ingredient curried lamb meatballs, served with rice and sugar snap peas.
Here's what you'll need to throw this simple meal together in a hurry:
One packet of lamb koftas
One jar of pasta sauce
One jar of your favourite curry paste
There are your three ingredients. You'll also need some rice and veggies to serve.
Here's the funnest trick ever. To make the meatballs, just remove the skewers from the koftas and cut them into cubes. You can roll them into balls at this point if you like, but I kinda like meatcubes. Always be different.
So now all you do is fry the meatcubes in a pan, then add the jar of pasta sauce and two tablespoons of curry paste. Give it all a good stir to combine and allow to simmer gently while you cook your rice and veggies.
HOW EASY IS THAT?
Sure, it's not going to get me a gig on Masterchef anytime soon, but hey. I'm not bothered.
3 Ingredient Curried Lamb Meatballs
Ingredients
1 packet of Lamb Koftas
1 jar of pasta sauce
2 tbsp of curry paste
rice and vegetables to serve
Instructions
Remove skewers from lamb koftas and slice into cubes. Roll into balls or keep them as meatcubes, really makes no difference.
Place a frying pan on medium high heat and cook the meatcubes until golden and cooked through. Add the pasta sauce and curry paste and stir to combine. Reduce heat and simmer for ten minutes, stirring occasionally.
Serve with rice and vegetables.
https://mumslounge.com.au/lifestyle/food/3-ingredient-curried-lamb-meatballs-recipe/