20 New Year's Eve Activities for Kids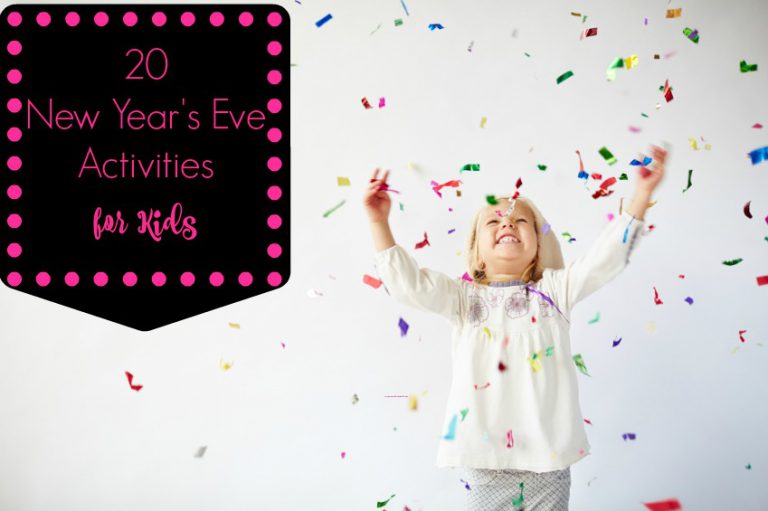 When you have kids, celebrating New Year's Eve can be put in the too hard basket. Pre-kids, you would have had the drinks flowing and the music pumping with the year's top 50 hits. Adding kids to the party mix tends to reign in the celebration hype, but it doesn't have to if you get creative and organize some family friendly entertainment that will keep everyone happy. We've rounded up 20 New Year's Eve Activities for Kids that will not only keep them amused, but may also allow you to have a drink and a laugh, and a memorable night for all.
1. Get the kids to create a wishing wall by asking them to write down what they want to see happen in the New Year. Use stick-it notes to create the wall and keep it hanging during the New Year to see if the wishes come true.
2. Create some countdown bags for the kids to open on each hour as it goes by. Each bag will include an activity or food item.
3.  Create a photo scavenger hunt and use photos captured throughout the year. A great way for the kids to reflect on the year that has passed.
4. Why not play New Year's Eve Bingo? Create the board cards using this tutorial.
5. If you have spare bubble wrap from Christmas Gifts, why not lay it on the floor for the kids to create their own popping sounds. To limit the noise, get the kids to jump on the bubble wrap when the clock strikes past each hour to Midnight.
6. For a fun game for family that are staying with you over the New Year's Eve holiday, why not swap the Guess Who cards for photos of the family? Play the game as normal but guessing which family member instead.
7. Make your own balloon drop. The kids will love this. The full tutorial on how to make your own can be found here.
8. Why not play some minute to win it games? This game involves knocking down 12 cups using stockings and a ball.
9. Another minute to win it game is using a straw to suck M&M's and place them on a clock paper plate.
10. Why not create a time capsule? Use our free printable and as a family decorate a tin using photos from that year.
11. Alternatively  you could make a time capsule using a 2Lt Soft Drink Bottle.
12. While the adults drink responsibly away, why not create a fun drink and snack for the kids? Pour milk into martini or champagne glasses and top with a homemade cookie that they can treat themselves.
13. Craft is a great way to keep the kids occupied as they count down the hours till midnight. Why not paint some party hats with chalkboard paint and get the kids to design their own hat with chalk.
14. To balance the sugar, get the kids to make their own fruit kebabs as they launch into the New Year.
15. Get the kids to make their own funny face horns.
16. If the kids aren't fans of the loud fireworks, get them to make their own using pipe cleaners.
17. Or if you want to get tricky, make fireworks in a jar.
18. Turn glow sticks into rings and play Glow in the Dark Ring Toss.
19. Get the kids to practice their fine motor skills by playing Tic Tac Clock – where the kids have to use tweezers to pick up a tic tac and place it on the adjacent plate.
20. Turn the music up and organize karaoke and a dance floor for the kids to party up and have fun.
What will you be doing for New Year's Eve with the kids?
Don't forget to print your free NYE Time Capsule Printable and create a family tradition this New Year's Eve.