Baked Gifts for Christmas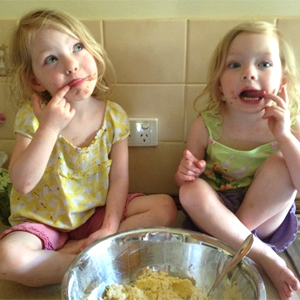 I know some people think that they cannot bake; well some recipes are very complicated and just looking at some I get stressed out. It is not my own recipe or even a family favourite that has been handed down, so I cannot take credit for that. The only thing I can do is to add to it, how to decorate it, do you put icing on the biscuits or just leave them natural as that is the way I prefer them.
Would you believe that you can make tasty shortbread people will think you have purchased from the shops, fancy ones even?
My cooking assistants, faces already messy due to previously helping me make a chocolate cake
Since I have used the recipe that I am about to share with you mine have been not thought cooked by me.  I am not sure if this surprise is to be taken as an insult or compliment.
The recipe for this amazing shortbread is to be found on the side of the McKenzie's Rice Flour box. I am not sure if the magic that makes it taste so wonderful is the rice flour itself, but it does taste amazing. The only thing I add is some vanilla essence, and if you have real vanilla use instead of the essence.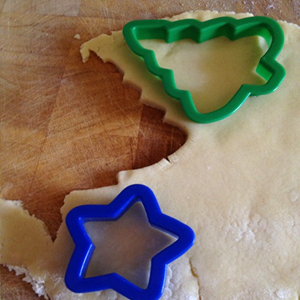 I made sure to do some different ones for Christmas, stars and Christmas trees. You can choose whatever takes your fancy.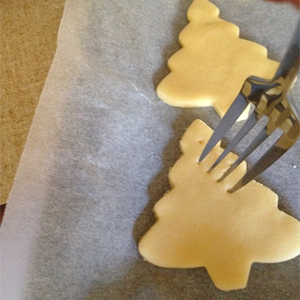 One thing that I make sure to do, is while the biscuits are still soft on the tray I prick them with a fork. It gives them a nice decoration and some shortbread in the shops has this so yours will look like the fancy ones with this trick.
I also make sure to discard any burnt biscuits when I pack them up, you or the bin can have them. If you have just the nice ones on show it looks so much better.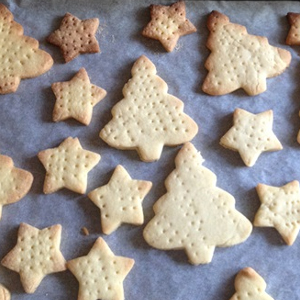 As shortbread is a good and quick thing to make, I thought why not package up some special biscuits for Christmas gifts.  All you need is to have a nice box and make sure it is presented well. Mine is just an idea to get you started.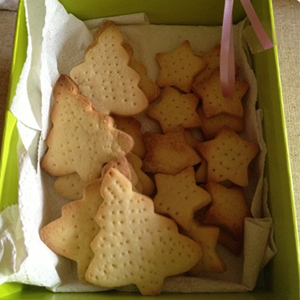 Give this a go and I am sure your friends and family will love you. No more buying shortbread at the shops. Make a batch and just have it on standby for guests or pack up for presents.
Suzanne Robinson is an ex career girl (well still a career girl, but not in the office and getting paid). She has worked for the ABC (Australian Broadcasting Corporation), News Ltd.'s, CareerOne.com.au as a producer and lots more.
She is a mother to four year old identical twin girls, who keep her very busy. On top of looking after the girls, she is studying for a master's degree in project management, blogging on her blog "Mummy to Twins", attempting to keep the house clean and tidy, and trying to fit in some me time as well.