Chocolate and salted caramel brownies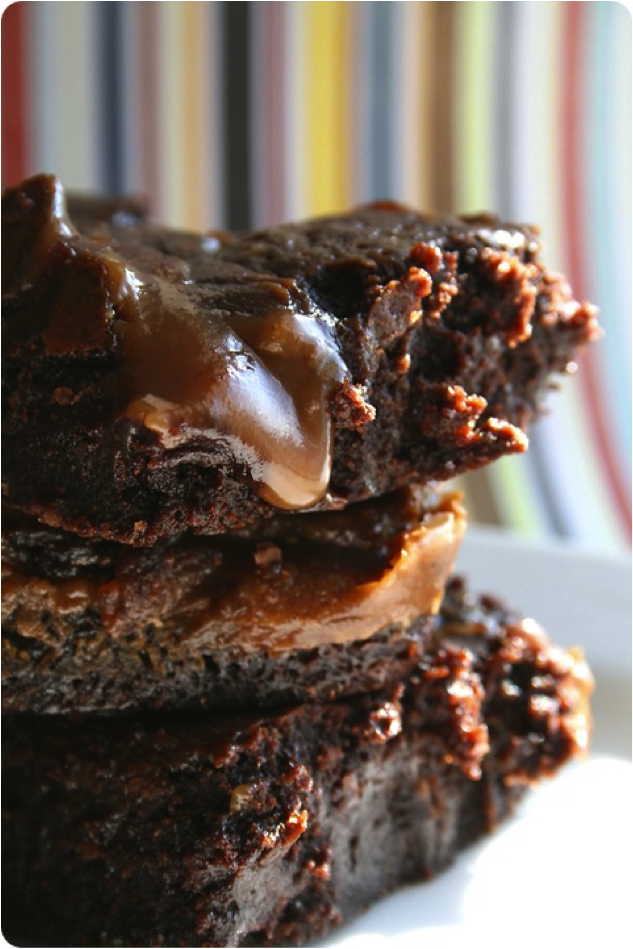 Chocolate and salted caramel brownies
When it comes to naughty desserts, is there any flavour other than chocolate? Yes, caramel and when you combine the two – jackpot! The caramel in this recipe is somewhat fiddly, but oh soooooo worth that little bit of loving effort. This dessert reaches great heights and needs no other adornment other than a fork and plate!
Ingredients:
Caramel
1/2 cup granulated sugar.
4 tablespoons unsalted butter.
Heaped 1/4 teaspoon flaky sea salt.
3 tablespoons heavy cream.
Brownie
85g unsweetened chocolate, roughly chopped.
115g unsalted butter.
200g granulated sugar.
2 large eggs.
1 teaspoon vanilla extract.
Heaped 1/4 teaspoon flaky sea salt.
85g all-purpose flour.
Instructions:
Prepare a small plate with a sheet of lightly greased parchment paper.
1. Melt sugar in a medium dry pan over medium heat. Time it for about 5 minutes, stirring if necessary to break up large chunks. By the time it is all melted, if should be a nice copper colour; if not, cook until it is. Remove from heat and stir in butter. It may not incorporate entirely but do your best. Stir in cream and salt and return saucepan to the stove over medium-high heat, bringing it back to a simmer and melt any solidified sugar. Cook bubbling caramel for a few minutes more, until it is a shade darker.
2. Pour out onto the parchment-covered plate and transfer to your freezer. Freeze until solidified, which can take anywhere from 20 to 30 minutes.
3. When your caramel is almost firm start making the brownies. Heat the oven to 170C . Line an 8×8-inch square baking pan with parchment paper. In a medium heatproof bowl over gently simmering water, melt chocolate and butter together until only a couple unmelted bits remain. Off the heat, stir until smooth and fully melted. Whisk in sugar, then eggs, one at a time, then vanilla and salt. Fold in flour with a spoon or flexible spatula.
4. When caramel is firm, remove it from the freezer and chop it into rough 1-inch squares. Gently fold all but a small amount of caramel bits into batter. Spreading into baking pan until mostly even. Scatter remaining caramel bits on top. Bake in heated oven for 30 minutes, until a toothpick inserted into the centre comes out clean.
5. Cool thoroughly and cut into heart shapes. Dust with icing sugar and serve with fresh blackberries.
About Dianne Ward
Dianne is a mother of two young children, freelance writer and founder of www.bedlovehome.com.au and food website www.thesassycook.com featuring full bodied but simple recipes and everyday cooking inspiration. Dianne is also an avid "organiser" and takes great pleasure in helping families and individuals reclaim their space and simplify their lives. Dianne's organisational tips have been featured on Good Morning New Zealand, Today Tonight, numerous National radio stations and news publicati