How to Teach Kids Gratitude This Christmas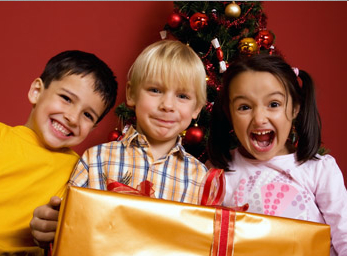 Teach Kids Gratitude This Christmas
I'm a little over Christmas, and have been for some time. The gross commercialisation, the tearing open of countless presents, and the amount of food consumed all disturbs me. It's difficult to accept the excess that comes with Christmas when so many people around the world just struggle to survive.
It's about now that some of you will roll your eyes. Go ahead. But I actually love Christmas. I love the weather, having the kids on holidays and I fully embrace the magic and mayhem of the season. I would never deprive my children of that. However, Christmas is a luxury, and our kids should know and appreciate that. It's not only an opportunity to catch up with family and get that awesome new thingy-ma-jig you've been wanting for ages, it's also an opportunity to help your kids develop gratitude.
Ten years ago I handed my four-year-old son a present from under the tree. He eagerly tore it open, only to find NOTHING inside.
The look on his face! "Its nothing!"
"That's right… Nothing is what most children in the world get today. Many are too poor to even have food."
I know, a bit intense, but very effective.
My little boy nodded and I passed him an envelope. Inside, was a voucher for Feed The Children.
"I was going to get you an extra Lego set," I said, "but I got this instead. Now one little boy just like you has food."
He did not cry. He didn't feel ripped off (can we please stop under-estimating our children. They naturally want to give and help). For the rest of the day, at different intervals, my son brought this up. While digging into his own Christmas smorgasbord, he acknowledged how lucky he was. He got it.
I once had an acquaintance reproach me for ruining my son's Christmas by introducing him to the harsh realities of the world at such a young age. My question to her was when exactly was she going to teach gratitude to her own son? Real gratitude, not just that fake stuff where you force your kid to say thank you for a present, while their attention has already moved on, and they're searching for the next thing that's "theirs." What's wrong with letting your children know that others are less fortunate, and encouraging them to take the time to actually consider what that means? Or should we shield our kids from all this and let them have their "childhood", make them the centre of a privileged universe, and wait until they're teenagers to introduce them to some of life's harsher realities? Because that doesn't work either–I know loads of people who have tried this and their teens are selfish assholes.
My next son was born and this was already a tradition that he also embraced. Now each Christmas both children get excited about what they will receive that will help someone else. Their favorite was during the drought, where they got a certificate and photo of a sheep—their sheep. The donation we made helped the farmer feed that animal for a year.
I met my partner and introduced his kids to all this. At first it was an alien concept to them, but they now enjoy shopping for toys to put under the Kmart Wishing Tree. For the past few years all the boys have received Fred Hollows vouchers. For only $25 they give the gift of sight. We explain that in terms they understand.
"We were going to buy you some Beyblades, but thought this was more important."
And quite frankly, it is.
My sons are always incredibly interested in the chosen charity. We start Christmas day discussing it, and not once do they ask where their real presents are… or even if they are getting any. They do, of course. But not many, and by the time they open them, it's without that glazed look kids get, like piranhas tearing at flesh.
Each year now my sons get a gift for themselves and a gift that gives to someone else. And they are just as excited about the latter as the former.
Of course it's easy to sit here in my privileged part of the world, and buy a few certificates, and cut back on other presents and pretend I'm making a difference. Believe me, I don't hand out charity vouchers and then sit smugly back and feel like I've contributed to the world. But what I do feel I've contributed towards is helping my sons develop a sense of reality, and a genuine appreciation for how fortunate they are. And I'm hoping the effects of that will go further in changing the world, than a $25 charity voucher ever could.
Do your children realise how lucky they are at Christmas? How to you try to instil gratitude?
Jane Tara is an author, travel writer, and director of the children's travel publishing company, Itchee Feet. She has lived in Tokyo, Taipei,
Vienna, London and New York, but currently lives at Bondi Beach with her partner and their four sons.