Getting Your Teenager Motivated to Start the Senior Years of School!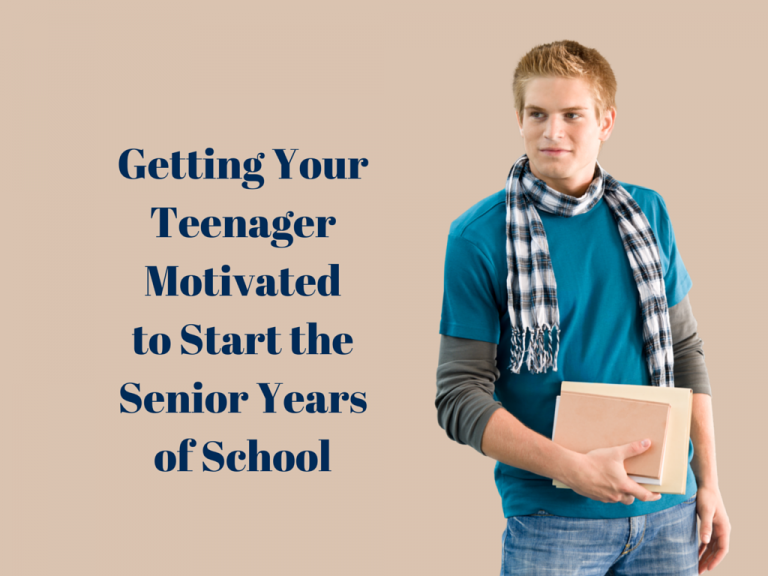 Getting Your Teenager Motivated to Start the Senior Years of School!
Have you ever had a long extended break from work? Doesn't it bring out the best in you? You let go of all that stress and the "fun and relaxed" YOU comes back to life. Then it's the last week of your holidays and you start to count down the days you have to go before you are back to that packed in life you once lead.
Imagine if during those holidays you had people telling you that this year was going to be the most important year of your life. The year that will make or break your future, there will be no fun, just work! You are reminded constantly your social life will be at minimal. It will be all about just getting your head down and making your career stand in the world. It's the most important year of your life. I know if it was me I would be dreading going back to work and I love my job. The pressure alone would make me just want to run away.
Well, that's how a teenager often feels when they are about to start Year 12.
I remember over my Christmas break before starting Year 12, my family continually talked about the huge workload I would have that year. They reminded me constantly there would be no going out. I had to focus like never before.
Now I understand why my parents said this, in fact it was the year I learnt how to juggle school, homework, studying, work, money, family, friends, parties and of course the loser boyfriend that I thought was going to be in my life forever. That year did make me resilient, but I started the year with pure fear and no motivation.
Year 12 taught me much more than just the things I learnt in the classroom. I loved the new relationships I had with my teachers. It was the very first time they treated me like an adult instead of a kid.
I wish my parents told me about all the fun I would have at school that year. I had a great year. It was full of 18th birthday parties. I got to find out who I was in the adult world. I turned 18 myself and I thought I was so grown up.
There were many nights that I would stay up all night and study, reading books over and over just so I could get it right. I learnt the art of a good oral presentation and that exams were really stressful. I was put under pressure like I had never experienced before.
My mum would sit up late with me and help me type out my final drafts for my assignments. We discussed books like One Flew Over the Cuckoos Nest and To Kill a Mockingbird. We bonded in ways that we had never done before. I didn't get a break from my household chores, which was hard and trust me I still remind mum of that now. There were days when I needed a break. I learnt how to solider on.
Could my parents have made it easier for me? Here are some tips on how to get your teenager motivated for the start of Year 12.
Have positive conversations at home with family and friends about all the various good things school has to offer other than education.
Listen when they speak. When young people talk to their parents about subject selection-get involved and be positive
Remind them of the fun they will have. There is more to school than education. Maybe even reflect on the fun you had at school
Relationships with teachers will change. Teachers are different to senior students; they treat them more like adult.
Make sure they are doing subjects they will enjoy. It's not just about your future, careers and the final score. The more you enjoy school the better you will do.
Looking back I wish I was guided to start the year with some positive achievable goals. To have someone ask me about what I wanted for my life. Not to be told what my parents would have done if they could live their life over. I felt like I was under pressure to make them happy and become what they wanted me to become, all the while forgetting to ask myself what I wanted.
I believe that fun and enjoyment is the key to a healthy life. Ask your teenager what they think is fun, what lights that fire in their belly, what gets them excited about life. Try and answer these questions, most importantly what makes you excited to work harder and be the best you can be?
This is about who they really are, not what society wants them to be. Get your teenager to set some goals they want to achieve. Set them so it makes them reach out of their comfort zone yet is achievable at the same time. Remember life is a long journey and we all have our own little curriculum in life. If we make a mistake and we fail, it's just a life lesson that kicks us down, so we must learn how to get back up again.
Its all about making life as fun and easy as possible, yet finding that secret key to you that makes you wake up in the morning excited about what the day has to offer.
Sacha Kaluri – Motivational Speaker and Youth Expert. Director of the Australian Teenage Expo 28th and 29th August 2015 Melbourne Showgrounds www.teenagexpo.com.au