30 Days of Family Dinners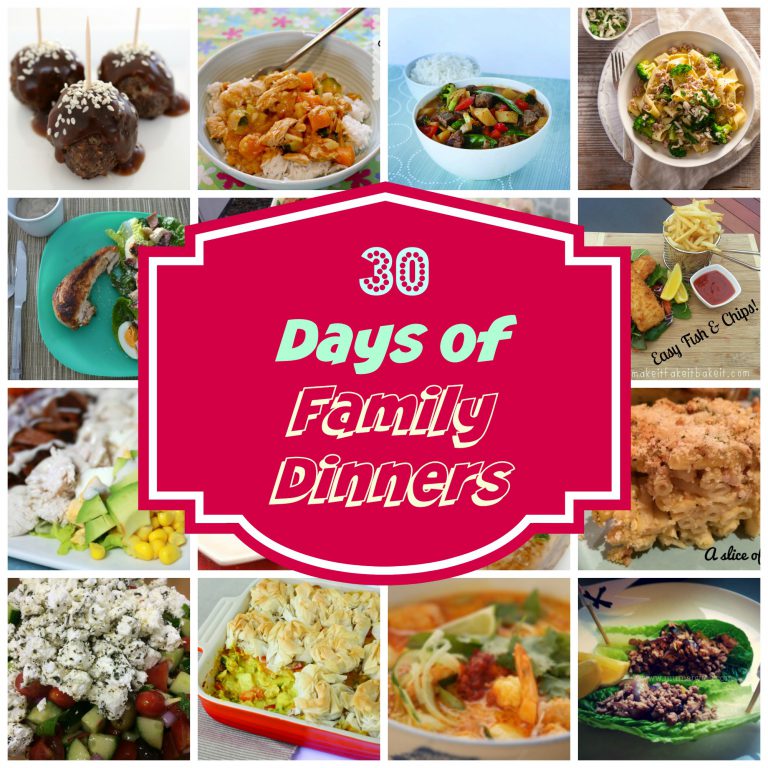 Take the stress of out meal planning with our totally delicious '30 Days of Family Dinners' guide.
Day 1: Chicken Caesar Salad – is always a family favourite.
Day 2: Mushroom, Bacon & Baby Spinach Risotto – make this in the Thermomix for a super quick and easy dinner that everyone will love.
Day 3: Teriyaki Meatballs – perfect for dinner on the run!
Day 4: Seared Tuna with Salsa Verde – for something a little different, try this seared tuna with salsa verde recipe – you'll love it.
Day 5: Sausage Rolls – serve with salad or vegetables for a super yummy weekend dinner (and then freeze the rest for lunch during the week).
Day 6: Beef Short Ribs – for something a little bit special, you can't go past these beef short ribs.
Day 7: Creamy Bacon, Cauliflower and Pea Pasta Bake – we all know that pasta is a winner with kids and parents alike… and this one is just so yummy.
Day 8: Feta, Olive & Tomato Savoury Muffins – these aren't just perfect lunchbox fillers! Nope, they also make a lovely light dinner, especially when served with a side salad.
Day 9: Rendang Beef & Vegetable Curry – warm up with a delicious bowl of curry.
Day 10: Barbecued Coriander and Pepper Prawns – who can say no to prawns? Certainly not me!
Day 11: Chicken & Broccoli Pasta – get a protein (and carb) kick with this simple pasta dinner.
Day 12: Pizza Scrolls – make a big batch of these pizza scrolls and freeze the leftovers for easy school lunchbox fillers.
Day 13: San Choy Boats – who needs takeaway food when you have have delicious San Choy Boats at home?
Day 14: Fancy Chicken Curry – everyone loves a curry and this one is just as delicious for lunch the next day!
Day 15: Cheesy Corn & Zucchini Muffins – make a batch of these muffins and serve with salad and chutney for a quick and easy dinner.
Day 16: Chopped Cobb Salad – keep things light and healthy with a classic Chopped Cobb Salad.
Day 17: Mini Duck Pies – who can resist a mini pie!
Day 18: Veggie Smuggling Spaghetti & Meatballs – smuggle in a few extra vegetables with these super yummy meatballs.
Day 19: Greek Salad – cool off with a perfect Greek Salad. Add in some grilled lamb for a complete meal.
Day 20: Cheesy Corn, Pumpkin & Pea Baked Risotto – make extra and enjoy the leftovers for lunch the next day.
Day 21: Roast Vegetable Quiche – this super versatile quiche can be made ahead of time and frozen (perfect for when you've got some spare time on the weekend!).
Day 22: Hawaiian Chicken Burgers – these burgers are totally addictive! Keep everyone happy by letting the family fill their own burgers with their chosen fillings.
Day 23: Balsamic Marinated Swordfish – increase your fish intake with this super yummy swordfish recipe.
Day 24: Savoury Muffins – always a favourite, especially for dinner on the run (or perhaps a summer picnic at the beach?)
Day 25: Fish & Chips – save money by making your own fish and chips!
Day 26: Prawn Laksa – such a classic recipe and oh-so-delicious!
Day 27: Hoisin Quail with Watercress Salad – we love this dinner for something a little different!
Day 28: Thermomix Sweet Chicken Curry – keep things family friendly with this sweet chicken curry that the kids will love!
Day 29: Slow Braised Beef – this is such a great dinner idea. The whole family will ask for this over and over again!
Day 30:  Gadoh Gadoh – we love this salad with a difference.
What are your favourite family friendly dinners?