Sharing the Load ~ Tips for Him and Her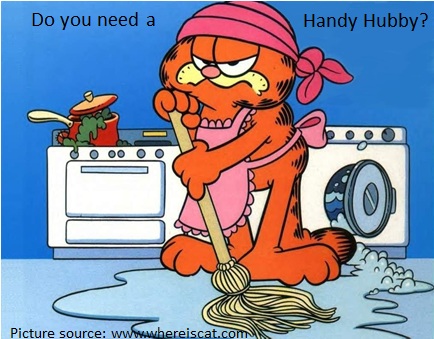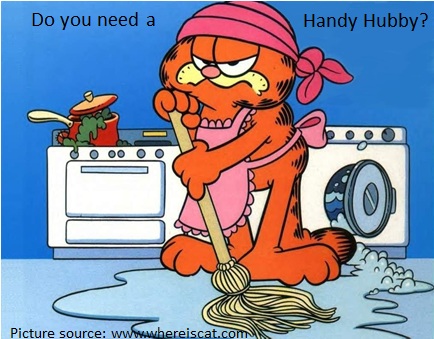 Do you have a Handy Hubby, or a Lazy Lad?
This article is for all the ladies and men out there who know of a Lazy Lad, and would like to inspire this Lad to help out some more around the home.
I happen to have a Handy Hubby who will do anything to help around the home (thank goodness for me!!). However, he had struggled in the early days of our relationship to just jump in, look around and see what has to be done. Therefore, we decided together the best way forward was for both of us to have 'set' tasks. We are quite flexible now with our responsibilities, however 'set' tasks has worked wonders for us over the past 10 years, particularly in times of change or stress.
For the Lazy Lad, we need not scare him unnecessarily. The benefits of set tasks are that you can start with simple, daily, repetitive tasks that take no more than a few minutes each day. Bonus: no more nagging!
We have Men Tasks and Women Tasks … you know … man mows lawn, woman sews pants. My son often says "Dad cooks outside, Mum cooks inside". But today we're talking about all those other chores and tasks required around the house, that really could be shared.
Let's try a few Simple Starter tasks.
Empty the rubbish bins, same time every single day whether they look full or not. (tip: if your bin does not fill up daily, get a smaller bin). Est time: 3 mins.
Empty the dishwasher, same time every single day. Est time: 8 mins.
Make your partner a quick breakfast and cup of tea/coffee. Est time: 5 mins.
Make the bed, same time every single day. Est time: 3 mins.
Pick up your clothes and put them IN the washing basket. Est time: 1 min.
Ladies, would you be happy if your Lazy Lad did a couple of those things every single day? Remember to reward your Lad if he is making some moves in the Handy Hubby direction.
If you're already doing Simple Starter tasks, perhaps you're actually a Handy Hubby looking for a little guidance. This can be a bit harder because these tasks are not all repetitive, but perhaps you could schedule one of them to do first thing Saturday morning for example.
Try some of these:
Hang out the washing each morning before going to work. Est time: 10 mins. Bonus points if you put the washing on before going to bed so it was ready to be hung out!
Clean the toilet and/or bathroom. Est time: 30 mins.
Change the sheets on the bed. Est time: 10 mins.
For Dad's … bath the baby. Task includes gathering supplies, running bath, drying and dressing baby then tidying up bathroom. Est time: 30 mins.
For Dads: take the baby for a walk, give it a bottle or just hold it while Mum has a shower. Est time: 15 mins.
This strategy may or may not work for you, and if you're lucky enough, you don't even need a strategy! Having a Handy Hubby makes a massive difference to my day, and he appreciates knowing what his responsibilities are without having to worry about how he fits into the daily routine of the kids and I. Bonus: it gives him heaps of quality time with the kids too.
I'm Alison and I created THE THRIFTY ISSUE because I enjoy sharing ideas and creating things with my family and friends, on a budget. The Thrifty Issue is a place to visit for stylish, funky and fun ideas on saving time, money and stress. A place to meet and greet, to share and explore www.thethriftyissue.com.au