Should Grandparents just be EXPECTED to Babysit?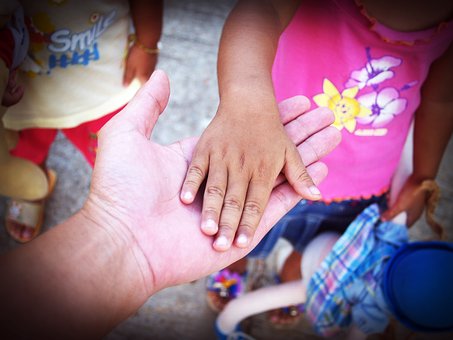 A recent rant on Facebook from a mother who was at odds with her parents because they chose to indulge in a glass of wine (for her) and a few beers (for him) whilst babysitting her daughter inspired me to write this article. Firstly because I thought that woman was insane – why did she think they needed the drinks in the first place? And secondly because I wanted to address the issue that remains largely unspoken by a lot of long-suffering grandparents whose kids simply feel it's their right to drop their kids off at their doorsteps whenever it's convenient for free child care.
My kids grew up largely without any grandparents in their lives at all. My parents live in Canada, their paternal grandfather passed away before they were born and their paternal grandmother? Well, she just. wasn't. that. into. them.
And frankly that made me really mad when they were young. One time we took over some paintings they had made for her to put on her fridge and she said "I don't want 'em, I've had more than my fair share of drawings on my fridge, take them home."
I was horrified. What? Why wouldn't she want my precious children's painstakingly created artwork?! What the hell was wrong with her?
And when it came to babysitting? OMG. I think I could have counted on one hand the number of times she looked after the kids for longer than twenty seconds and she lived literally two minutes from our house and didn't work. She said she'd raised her kids (7 boys) and she was done. Although one time she said she would look after them for the evening, if, my husband agreed to build her a carport. Yeah, fair trade.
I worked full time so the kids transitioned from day care to before and after school care and holiday programs which they hated and it cost a fortune but I didn't have any alternatives. As soon as I felt they were old enough to be home alone and stay out of trouble, they were given house keys and that was that.
We had our family young and went from pretty much being kids ourselves to having kids and we sort of grew up along with them (in as much as you can say we are grown up, because frankly, we are both still pretty bloody immature). And when they were ready to fly the coop we were thrilled beyond belief. Cooking for two. Laundry for two. No more picking up discarded plates, bowls and glasses, fighting for washing line space because they hadn't brought their clothes in and we were free to walk around naked if we wanted to, turn our music up as loud as we wanted to without waking them up because they were still in bed at lunchtime after a night out. Freedom.
And now they have been out of the house for a couple of years; one's married, the other one's just about to get married and they keep saying stuff like: "when you babysit our kids". Wait, what? No! We JUST got rid of kids and now you want us to look after yours?
Yeah, they say – because we (daughter and daughter-in-law) will probably want to work part time and we'll want to go out to dinner and to the movies and stuff.
Um, wait, what? So you want me to completely change my life and what I do with my days and change nappies and toilet train and have my house full of toys and mess all over again so you can earn money while I remain unpaid and unable to leave the house? Not Going To Happen.
Because I work from home my kids think I'm going to make an excellent (free) babysitter. But I go to the gym every morning for an hour and a half – that would become impossible. Then I come home and I sit at my computer for literally hours every day – another thing that will become impossible when I am up and down checking on them every five minutes. And feeding them. And changing them. And all that crap. I looked after my daughter's dog last week and couldn't get anything done!
Of course I will love them. And of course I will be happy to have them while they run off to the doctor or the hairdresser and of course I will step in and help if there's an emergency or someone is sick. And if we are literally just sitting at home on the couch and you want to go take in a movie, sure drop them off for a few hours. We can do that.
But after all those years of being pissed off at my mother-in-law, I GET it now. I've raised my kids and don't want to raise anyone else's. Sorry. Call me selfish, call me mean. Call me all of the names, I'm fully expecting to hear it all and am bracing myself……
We have actually had this exact conversation several times with friends whose parents do provide babysitting services before and after school, school holidays or while they go on week long vacations and say they couldn't imagine not having the help; they are incredulous we can say such things and believe we'll change our minds but we don't think we will.
We've already said to them that we will probably move interstate as soon as the first pregnancy is announced. If we choose the Gold Coast, maybe they can chuck them on a plane every couple years and we'll have them for the weekend, take them to the Theme Parks and straight back to the airport.
And I suspect if you were to ask a bunch of grandparents how they really feel about being free child minders, and they could answer anonymously without the fear of reprisal you would hear similar words come out of their mouths but they're just too afraid to say it out loud.
And watch me eat my words when I am presented with a sweet, pudgy, adorable baby that I fall madly, head-over-heels in love with. Hmmmmm.