Clever Tips on How to Be Super Organised for the Swimming Season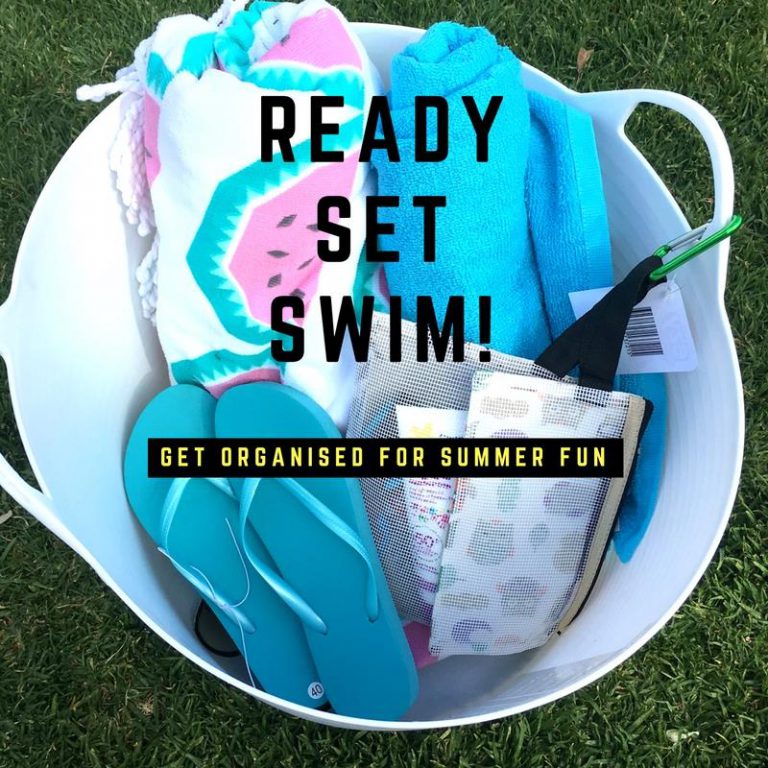 Clever Tips on How to Be Super Organised for the Swimming Season
It's that time of year, Finally!
The days are getting warmer and we are all set to hit the beaches and swimming pools.
Our school has started the swim safe lessons and of course I am not ready!
Swimming lessons have always been a bit of a stress for us, I work full time and I need to stay very organised to prevent morning panic.
So one quick trip down to Cheap As Chips has got me organised for school swimming and private swimming lessons at the local pool. Luckily I was able to take miss fussy pants to the store with me and we duplicated a few items so now we are all set.
Here is what you need to get organised for school swimming.
Sunblock
Lip balm (they seem to get the driest lips from the chlorine)
Goggles
Hairbrush and hair ties for young ladies
Organising bag X 2 or three!
These nifty little bags have patterns on one side and mesh on the other so that they not only are easy to see through so that you can see at a glance if everything is in there, they also dry very fast.
The handy loop on the end helps make them easy to hook onto the swimming bag
I used one for the stuff she will need for the start of the lesson, one for the hair brush and hair ties and one for her swimming pass and ice cream money.
I pack two towels for swimming lessons, one usually gets soaked through and one is for wrapping around them to go home as my kids usually jump back in the pool when they get home.
Cheap As Chips had a nice child size towel (too big is too hard to manage for little ones on their own) for under $10 so you don't feel too sad if they get lost!
I always pack thongs for swimming lessons or going to the pool, public pool bathrooms are gross and you can avoid the struggle of putting shoes back on to sticky feet.
A great thing about these cool little bags is that you can join them together with a caribener and adding a key tag to name the bag, you can join the whole lot to the handle of your bag (these are awesome for nappy bags too)
These striped bags are ideal for swimming lessons as they are a good size, waterproof and they have a zip! That keeps all the gear inside so that there is not the embarrassment of your knickers falling out in the school bus.
For after school lessons I like to be a bit more organised than even that!
As I take multiple children with me and I am often in a huge rush to collect the children after school and race off to the pool!
I pack duplicated of all the things above except instead of the bags I take one tub and extra towels.
I have everything placed in the tub so that I can easily see what is in there and the small things are in the pouches.
When we get to the pool change room, the uniform comes off, the bathers go on and all the gear goes safely in the tub.
After the lesson the wet things go back in the tub, a towel goes around the kid, thongs go on the feet and off we go.
When we get home the tub goes to the laundry, the gear all gets washed, dried and back into the tub till the next lesson or trip.
The awesome thing about this tub is that all the wet stuff stays in the tub not in the car, and even if I go to the beach all the sandy stuff does not go over my car!
I actually have another one for all the sand toys, I can take them home, rinse them off in the tub and have them ready to go again! (they were an incredible two for $10 and I have replaced my laundry baskets for these as they are flexible and don't break easily , I find that laundry baskets are not as forgiving as these tubs and I have actually still got some tubs from four years ago as they are virtually indestructible).
So I hope that you find this useful, I think that with a small effort, (and the beauty of being able to get everything you need from the one place – Cheap As Chips – you can be organised for the summer swim season!
* don't forget your marker pen to give everything a name!
See you at the pool, I will be the relaxed looking one..
What is your swim season tip?