This is Not a Competition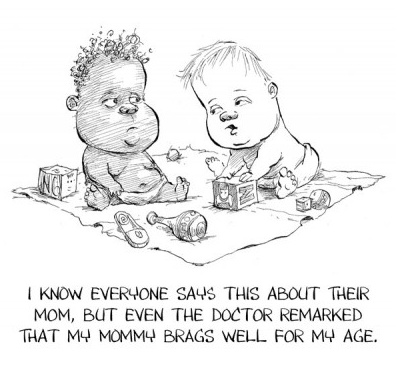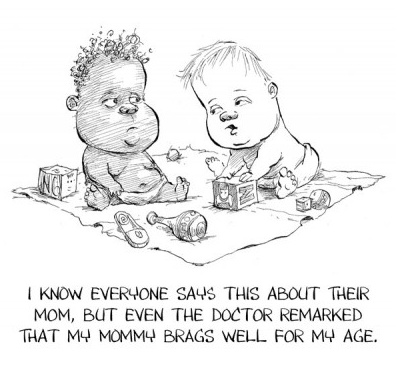 When a child is born, is almost inevitable for the mother to think that her baby is the best thing in the world. And it actually is. But there's a tiny difference between being the best thing in the world and being The Best. Unfortunately, most parents can't see that tiny difference.
The competition starts in the early months: my baby sleeps the whole night through, mine never weeps, mine already grabs his toys. I even heard a dad saying that his month-old infant could smile, when it is known that real intentional smiles begin around three months.
Later on parents start comparing the first year milestones: my baby can sit, mine can clap his hands, mine can crawl, mine waves, mine can walk, mine has four teeth, mine plays with an iPhone! And things don't go easier throughout the years: my toddler left his diapers before two, mine can count to twenty, mine can dress up alone, my six year-old can multiply, mine had straight A's, my son entered Med school, mine got married and has two kids, mine has six.
But worse than hearing parents brag about their kids' achievements, which can actually be significant of a superior talent, is the tone. Believe me, there's no innocence when a mother asks you if your baby can walk. The point in asking is exactly bragging that hers can. And she'll use a triumphant tone as if her baby achievement is her own or at least a proof that she is a better mother. The tone is so clear that my husband usually replies to such mothers that our twelve month old can read. And some of them briefly believe him. Then their brains restart, and they realize they'd better stop with the stupid comparisons.
The truth is this is not a competition. Every child has it's own rhythm of learning and evolving. Being slower at learning whatever new activity or being last at achieving whatever milestone doesn't mean there's something wrong with your child or with you as a mother. Be proud of your kid whether he's class president or last on the swimming team. Frame every diploma he earns but also that hideous drawing of a dog that looks like a chicken. Brag about his musical talent, but also tell others about that day when he was so misbehaved he made you cry. As even in those bad days your kid will always be the best. For you.
Filipa Fonseca Silva is a Portuguese writer and advertising creative. Mother of one toddler with another baby on the way, she felt the urge to share with other mums the incredible things motherhood taught her and no one talks about.
When she's not writing about motherhood, fashion and lifestyle in her blog, she writes novels. Her first novel Thirty Something (nothing's how we dreamed it would be) has been widely praised, and her second one, The Strange Year of Vanessa M. was launched last June. You can find them both at Amazon.
Besides writing Filipa loves painting, collecting shoes and eating watermelon.