Eating Out With Your Child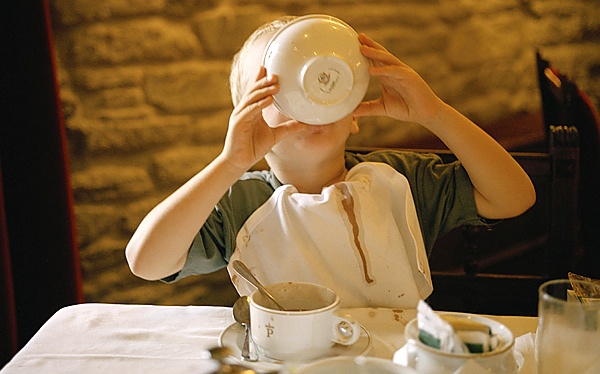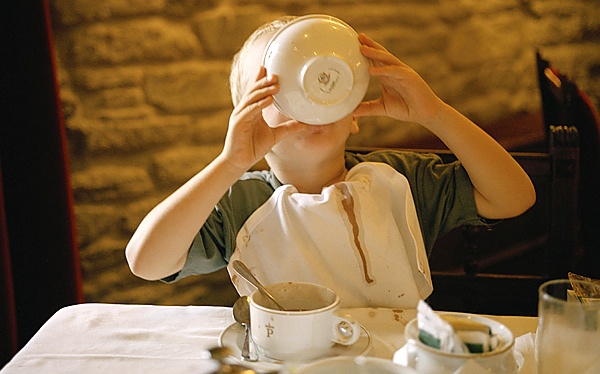 So many parents have problems going to a restaurant with their child. The children become bored, parents become embarrassed and the whole nice night out can end in frustration and disaster. I recommend the following few tips to help parents enjoy their restaurant meal with their friends and children.
Firstly it is vital that parents teach their children to sit at the table and eat their meal at home. All children need to learn as early as possible how to sit at a table, sit on a chair properly, use cutlery appropriately and wait for their meal to be served. This is the difference between humans and animals. It is disturbing to continually see children eating out that seem to have no idea how to use cutlery, sit up correctly or even sit on their chair appropriately with their feet down. Basic as these behaviours seem to be, it is often not taught with so many children eating in front of their TV or computer.
A tea-set when young can also assist a child to learn correct etiquette at the table. They learn to sit, pour, drink out of a tea cup and eat from a plate. Many parents add plastic knives and forks for the children to play eating and this can really assist the child to learn and they feel so grown up. Serve them a vegemite or jam type sandwich on their little tea set plate so they can practice cutting it up and eating it with a fork.
If children learn these basic concepts, dinner out isn't a painful experience. I do however recommend parents ensure they have an arsenal of quiet activities eg books, colouring pencils and paper, cards, DS, etc to entertain the child if they are having dinner with other adults, as the meal may progress longer and servings are usually delayed. If eating out with children it is usually wise to find family friendly restaurants that cater for children and that have high chairs.
If parents like to eat out, it is a matter of training and guiding their child at home. Set firm rules and boundaries around eating time to ensure the child understands what is expected of them. It is easier to have clear boundaries set that the child understands well before ever going out with them to a restaurant. By restaurant I don't mean fast food places but actual restaurants with waiter service and meals served at the table.
Telling a child that 'we are going out for dinner so you need them to behave' will mean nothing to a young child. If however you have demonstrated clearly to your child appropriate table behaviour at home regularly, all you need to tell them is you are going out to a restaurant and it is important they behave like the clever person you know they are and that they may need to wait for their dinner and dessert and this should be Ok for them. Allow the child to select the activities they want to take with them to the restaurant to keep them occupied. They can also get to choose the drink they want when at the restaurant if they are good, maybe a spider, red fire engine, etc.
Ensure they know that dessert will be a special treat or reward if they have earned it by sitting quietly and eating their dinner. To expect any child to sit quietly for a few hours while parents talk maybe somewhat a high expectation. If however this is needed then by making sure you take breaks with the child, walk around, go outside for a time or even join them in a short game, will assist. Children can often feel ignored at restaurants when mum and dad are talking to other grownups, so be mindful of their behaviour to simply get your attention. If you expect to be late then consider taking a soft blanket and pillow they can lay on under your table so they can sleep or rest.
If you do have a child whose behaviour escalates, remove them from the area; give them their two choices, depending on what they are escalating about. If they simply want to go home then choice one is to continue screaming and they have to stand with you outside, no drink, no food, no games, but they can scream as long as they want and the longer they scream, the longer you stay there, or choice two, if they settle down and behave like the clever person you know they are, then you will leave sooner and they may get the ice-cream or drink they want. Their choice.
I usually recommend we start with short restaurant visits before extending our stay. So perhaps first restaurant meal with your 2 or 3 year old may be 1 – 1.5 hours, building up to even 3 hours over time. To expect a young child to visit a nice restaurant with you for a few hours without any build up is somewhat asking for trouble, so do yourself a favour and work into it.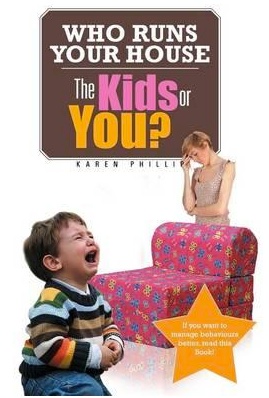 Karen Phillip is the author of "Who Runs Your House, the kids or you?". She holds a post graduate Counselling degree in Family Relationships and has been a Family Counsellor for nearly twenty years. Karen is also a Family Dispute Mediator with the Attorney General's Department. She has worked with many families who experience confusion over their young children's behaviour. Karen has raised her own three children and has also been a preschool teacher for many years. She has worked with and taught thousands of children over the past decades and has seen many behaviours that can be adjusted easily through better and more effective communication and clear boundaries.
Throughout Karen's near two decades of Family Counselling, she has seen the same recurring problems that most parents seem to have. Karen decided to put her advice down into an easy to read book instead of saying the same thing to all parents. By using these techniques problems can be quickly alleviated or reduced so parents can enjoy their children and their home can become conflict free, more relaxed and happier.