A Splash of Swimwear Style Secrets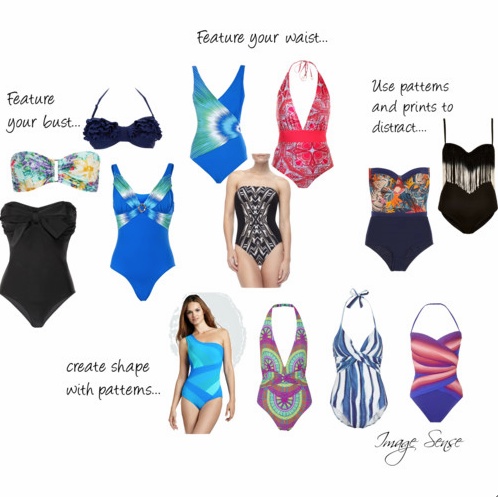 "Summer time, summer-time, sum…sum… summer-time…ewe ah, ewe ah"…. you may remember that song, does it bring back happy memories? Or is it "Ewe ah, oh no I have to get back into my bathers this summer"? I know I was never keen on getting into one as a child yet I love to swim, but it can still be a challenge today.
Shopping for a swimsuit is up there with finding the "right" pair of jeans! – Stressful and demoralizing, as we struggle to find the one that makes us look like the model Jennifer Hawkins or actress Halle berry out of the James bond movie," die another day", when we're the only ones to" die another day"!
Alas, unless we have managed to work that body into shape over the previous months, we have to face facts and accept our figure for what it is and do the best we can to disguise any variances we want to hide and highlight our assets instead! No matter what shape you are there are swimwear styles that are the right colour, construction and cut for you.
Firstly, we need to accept our unique shape in order to ascertain the best styles that compliment our features while distracting from variances we are not happy with, ie: small bust, large bust, thick waist etc.
You may have already been labeled with a particular body type, such as an "apple or pear" but remember it's not where we'd like to be or used to be but where we find ourselves at the moment. So let's have a look at some of my style secrets in helping you find your best swimsuit.
Focus on your assets – A great décolletage, slim waist, nice legs, luscious curves… And then make them a highlight with the use of style features, such as ruffles, ruching, paneling or colours and texture. E.g. A slim waist can be highlighted with a belt or contrast panel.
Use prints and patterns to distract from the areas you're not happy with. For example if you want to distract from larger hips then place a pattern or print on your upper half, leaving your bottom half plain.
Wear colours that are complementary to you. Place darker, muted, cooler colours on areas you want to diminish and lighter/brighter or warm colours on areas you wish to highlight. Black is not everyone's best option, it is a bright, clear, dark colour. If it is not "your colour", then when you wear it, it will stand out and focus attention on your body, not the whole of you! However, if you wear a colour that imitates your eye colour then it will bring attention back up to your face.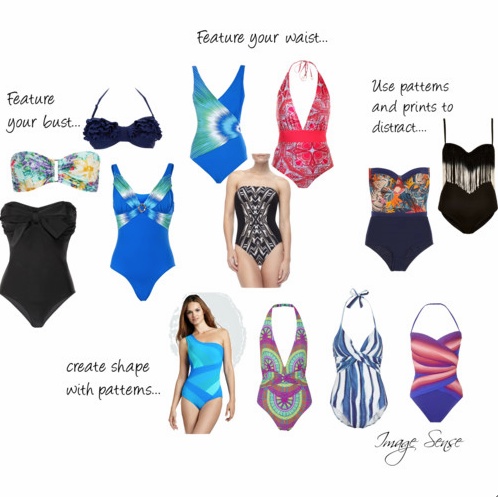 This is a brief extract from my e-book 'Swimwear Style Secrets' –The Ultimate guide to choosing your swimwear. For more details on your body shape and variations I recommend this guide to help you find the perfect swimwear so you can step out in confidence and style.
Joanne McEwen is an Image, Style & Colour Consultant at Image Sense based in Geelong, Victoria. She draws her wealth of knowledge from having worked in the fashion industry for over 25 years. Working as a designer and patternmaker gave her insight into the challenges that "off the rack" clothing brings too many of us.
Using her Image, style and Colour training partnered with her experience, gives Joanne the edge in offering expert advice in Image and Style as well as analysing Personal Colours, Wardrobe editing, & personal shopping for her clients. Her clients often consist of mums just like you who need to know "how I do I dress for my figure now?"
Joanne enjoys working closely with her clientele to achieve their desired results while expressing their personality through their image, & flattering their natural shape, with the designs & colours that suit them individually. She takes her natural flair & artistic eye for colour & design combining it with her attention to detail to offer a service that empowers people to look their best, feel their best and to be their best.
Enjoy my latest ebook "Swimwear Style Secrets" – The Ultimate guide to choosing your swimwear before you purchase your next swimsuit.
Receive my FREE 'A-Z of fabulous style tips,' when you sign-up for my monthly e-zine full of insider style tips and specials. Read my Image Sense Style blog for more articles on dressing for your body shape, personality & lifestyle.
You can connect with Joanne on Facebook, Twitter, Linkedin, Google+ and Youtube