How to Build a Winter Weekend Wardrobe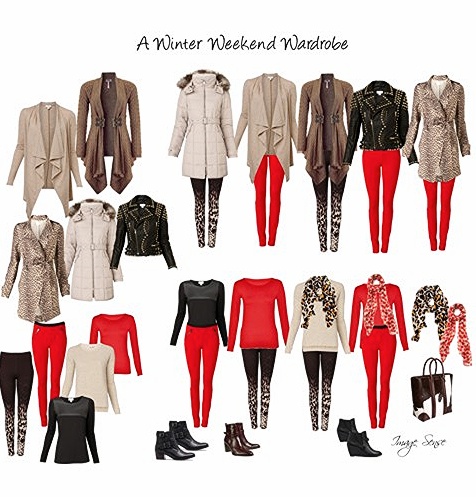 With our winter now upon us and a long weekend, I started to think about my winter wardrobe staples that get me through the cold, and how creating a capsule wardrobe out of a few key pieces can really make a difference to feeling great and looking great in your weekend attire.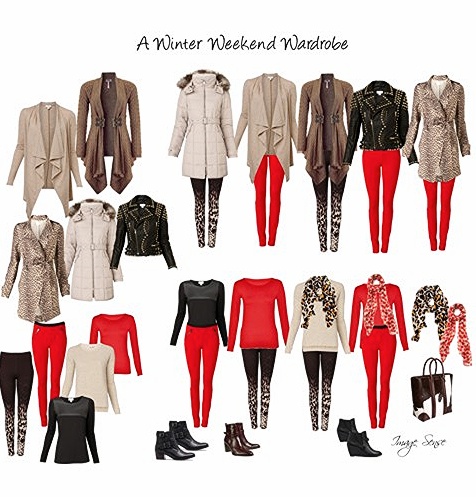 KEY PIECES YOU NEED:
A Cardigan
A Coat or jacket
Two pairs of warm pants (besides jeans)
Three long sleeve tops
Ankle boots
Scarves, gloves or hat
large tote bag
A Cardigan, especially in lovely warm merino wool will keep you nice and cosy. Not only is this waterfall style flattering to most body shapes, especially if you want to bypass the waist (like me), but you can wrap it around you when the wind blows. However if you are petite keep to a shorter style.
A Raincoat or Jacket is a must for those showery times, especially if you spend time outside watching your children play sport on a weekend like I do! This trench coat in the softened animal print adds some character without being to bold. The tailored coat with its quilted fur lined hood is a bit more casual but is still smart for a "puffa" coat. Leather is very hot this season and the biker jacket is no exception and adds some drama & is easy to team up with a number of pieces.
Warm pants in a stretch Ponte are great for comfort. The hot tangerine pair also has interesting detail at the knee and the leopard print adds some wow factor to a plain outfit.
Three long sleeve tops will not only keep you warm but are the connecting essentials to your Hero Pieces. Yet they still have some small detail like the leather yoke on the black top to pique interest.
Ah, Ankle boots are a must-have this season, they team perfectly with any pants no matter the leg width. Wedge, block or stack heels or flats are great for weekend "get-abouts" in winter weather.
Scarves add a focal point to an outfit adding a splash of colour as well as pulling two pieces together in a harmonious way.
A large tote is essential for carrying all those extras, like an umbrella, or scarf, but why not make it a statement piece that says something about your personality yet still co-ordinates with your outfits.
KEY POINTS TO REMEMBER:
Team two neutrals (cream/fawn and brown/black) with a colour (Tangerine) to add "zing" to an otherwise dull palette to create your capsule wardrobe.
You always need more tops to bottoms that mix & match with your bottom half.
Accessories add your flair and individuality to your style.
Choose investment pieces in neutral colours for longer wearability.
Having your colours analysed makes creating a capsule wardrobe easier as all your colours work together. The colours I've used here are from the colour swatch called "Opulent" which is on the warm side.
If you would like to know more about finding our what your personal style is and how to express it, then why not join me for a fun Step out in Style playshop on Saturday June 15th 2pm-4pm.
Or if you would like to know what palette of colours are the most flattering for you, then join me for a Colour Sense playshop on Saturday 29th June, 10am-3.30pm.
Places are limited and bookings are essential.
Joanne McEwen is an Image, Style & Colour Consultant at Image Sense based in Geelong, Victoria. She draws her wealth of knowledge from having worked in the fashion industry for over 25 years. Working as a designer and patternmaker gave her insight into the challenges that "off the rack" clothing brings too many of us.
Using her Image, style and Colour training partnered with her experience, gives Joanne the edge in offering expert advice in Image and Style as well as analysing Personal Colours, Wardrobe editing, & personal shopping for her clients. Her clients often consist of mums just like you who need to know "how I do I dress for my figure now?"
Joanne enjoys working closely with her clientele to achieve their desired results while expressing their personality through their image, & flattering their natural shape, with the designs & colours that suit them individually. She takes her natural flair & artistic eye for colour & design combining it with her attention to detail to offer a service that empowers people to look their best, feel their best and to be their best.
Receive my FREE A-Z of fabulous style tips, when you sign-up for my 
monthly e-zine full of insider style tips and specials. Read my HYPERLINK "http://www.imagesense.com.au/index.php/blog/"Image 
Sense Style blog for more articles on dressing for your body shape & 
personality.
Connect with me on Facebook, twitter, pinterest, linkedin, google+ 
and youtube.