FFS! Have you Ever Tried to Make Your Own Pasta?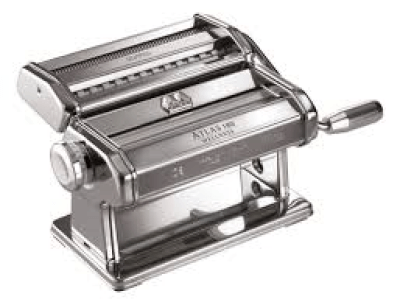 FFS! Have you Ever Tried to Make Your Own Pasta?
FOR SALE: One pasta machine – Cheap
As a big fan of MasterChef and My Kitchen Rules I know the contestants ALWAYS make their own pasta and they would be ridiculed if they didn't. Thus, I assumed that freshly cooked, home-made pasta must leave the dry supermarket counterparts for dead.
With these thoughts in mind I purchased a pasta maker about 6 weeks ago. Fortunately it only cost around $50 because I would gladly sell it for half that to get it off my shelf space in the pantry.  Honest to God I have no idea why anyone would bother to make it themselves.
The pasta maker came with a pasta recipe – flour, eggs, oil and salt.  I chucked the exact quantities into my mixmaster with the dough hook and waited for it to turn into a lovely, silky dough.  Didn't happen – it was dry and crumbly and horrible.  Into the bin it went.  I made it again deciding to add the flour a bit at a time and was left with nearly a cup of flour more than the recipe called for.  The dough seemed OK, not sticky.  I let it rest and then started the long, tedious process of rolling long pieces through the largest setting, down to the next setting, down to the next setting before putting it through the linguine part.  It looked fabulous when it came out but I had neglected to buy anything to hang the pasta on.  A quick Google search told me to put it on a baking tray dusted with polenta to stop it sticking.  So I did that and everything seemed to be going well.  But…by the time I was finished the last batch of linguine, the earlier batches had gone clumpy and sticky.  The whole lot went in the bin.  Out came the San Remo pasta from the pantry.
The next attempt I was determined to get it right – looked at a million pasta recipes on-line and watched several YouTube clips.  They all insisted on dumping the flour on the bench in a pile, making a well, putting the eggs in the middle and bringing it all together with a fork.  Once again, the first batch was dry and crumbly and got thrown out (I had now thrown out about 8 eggs, getting $$$). The next batch saw me chasing run-away egg yolks all over the bench but it turned out OK.  Rested that.
I was going to use this pasta for some leftover pulled pork I had frozen and turn it into ravioli.  My next door neighbours popped over and between three of us it took nearly an hour to roll out the dough, cut out the shapes, fill them with pork and seal them.
They cooked fine, they tasted good (I made a tomato sauce and a burnt butter sauce to go with them) but my God what a lot of work when I could've bought the fresh pasta from the supermarket and saved so much time and trouble.
For those of you who love doing it, I take my hat off to you and gracefully bow out of the whole business.