Melbourne Cafe Slammed for Charging $5 for a Single Teaspoon of Nutella!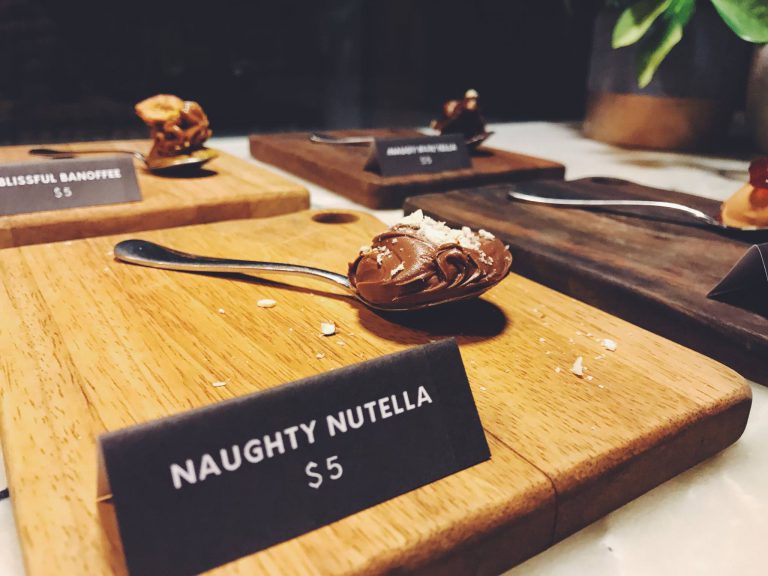 Melbourne Cafe Slammed for Charging $5 for a Single Teaspoon of Nutella!
We may have reached peak hipster, you guys.
A pop-up cafe in Melbourne has incensed people with their innovative idea of charging their customers $5 for teaspoons full of Nutella, among other things.
"Keep an eye out for the delightful 'Spoonful of Sugar' who have just launched their first pop-up store at a secret Melbourne location. $5 will get you a delicious sugar-loaded teaspoon of their tasty goodness, with flavours including timeless favourites such as the 'Naughty Nutella', 'Playful PB&J', 'Sinful Salted Caramel' and 'Blissful Banoffee'"
Served on a hipster-standard wooden board, the 'spoonfuls of sugar' don't look like much for a fiver, we must admit. They aren't even tablespoon-sized!
Some of them look pretty great if I'm honest. But for maybe $3, tops.
But then we get to these guys…
Do they actually think hard working Australians will happily fork over five bucks for a spoonful of peanut butter with a blob of plum jam on top? Or a scoop of Nutella with what looks like some crushed hazelnuts sprinkled over it?
And I bet you don't even get to keep the spoon, either!
Can I take this moment to remind the deluded people of this pretentious pop-up of the going rate of their wonderous creations?
You can buy a whole tub of Nutella and happily enjoy multiple teaspoons of the delectable spread in the convenience of your own home over the course of an entire week for one dollar less.
The location of this pop-up cafe is still under wraps but is being promoted by the Facebook page Melbourne Cool. The response has not been overly positive.
"Melbourne Cool should be ashamed of itself for promoting such bullshit and Spoonful of Sugar should be ashamed of itself for being a pack of dicks. What a cheeky bunch!" – Michael James Watson
"This isn't cool. This is the biggest spoonful of shit I've ever seen. $5. Fuck me! People in this city are literarily surviving on a few dollars a day and some bright spark thought this would be a good way to generate some income. Greedy bastards." – Tim Holland
"$5 for a spoonful of Nutella… hipsters have gone too far" – Ubah Yusuf
"This is a joke. Why open a pop up that will get more people laughing at you than buying off you?" – Damien Kirby
Would you pay $5 for a teaspoon of Nutella?
Source: Facebook and Coles