The Thrifty Issue: The Real Cost of Dining Out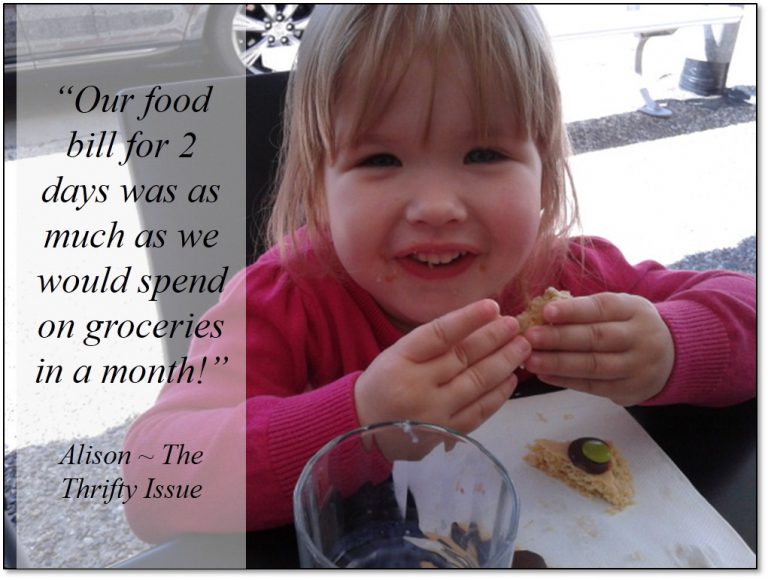 We recently embarked on our first "real" holiday with kids. When I say "real", I'm really meaning a holiday for all of us.
This was not your typical holiday where Mum (me) organises …
the accommodation;
the travel arrangements including plane tickets, parking costs, logistics, maps etc;
the packing (the list is too big here);
the food (including preparing, cooking, storing, packing)
the entertainment for the travel to/from and for the actual holiday;
and finally the budget.

Did I forget anything?

No … this holiday was one for me too! It was saved and budgeted for, so we could afford to lash out and stay in nice accommodation with a quick and easy location, onsite entertainment, and we didn't pack any food! We only stayed for a couple of days, which also reduced the packing as well. Everything … and I mean everything fit into ONE suitcase! If it didn't fit, we weren't taking it.

The biggest shock of all … was the cost of food! We spent just as much on food as we did on our accommodation. Our food bill for 2 days was as much as we would spend on groceries in a month!

Two adults and two kids can easily rack up $50 for breakfast, another $60 for lunch and easily $100 for dinner. Then add an extra $10 – $20 here and there for morning and afternoon tea snacks. We were not fine dining either. Our two kids are still toddlers, so for the majority of the time they shared a meal, or even shared our meals.

Would I do it again!? Sure. But only on a rare occasion, and only if we saved up for it specifically. It was such a lovely treat to not have to squeeze in extra cooking beforehand with my already busy schedule, and then to spend a lot of my holiday time in the kitchen considering we were only there for a few days. Even when food is pre-cooked, there's still the cleaning up.

A few little things would have reduced our spend significantly.

A few muesli bars from home in my handbag.
A stash of dry supplies in the car for snacks.
Always carry a bottle of water. The cost of bottled water is crazy!
A box of mixed sample cereals from the supermarket is much cheaper than dining out for breakfast.

Just doing those four simple things would have saved $50 for breakfast, and $20 again for snacks.

The cost of food is certainly a major consideration when planning a holiday, or even just going out on the weekends. If you're not prepared, it can really take you by surprise and blow that budget right out of the water. It is such a waste to spend that much money on food. Especially considering that most of the meals we make at home taste so much better than what we were buying as well.

Do you regularly dine out, or are you a thrifty food planner?

Cheers,
Alison x

I'm Alison and I created THE THRIFTY ISSUE because I enjoy sharing ideas and creating things with my family and friends, on a budget. The Thrifty Issue is a place to visit for stylish, funky and fun ideas on saving time, money and stress. A place to meet and greet, to share and explore The Thrifty Issue.