15 Minute Smoked Salmon & Cream Cheese Pasta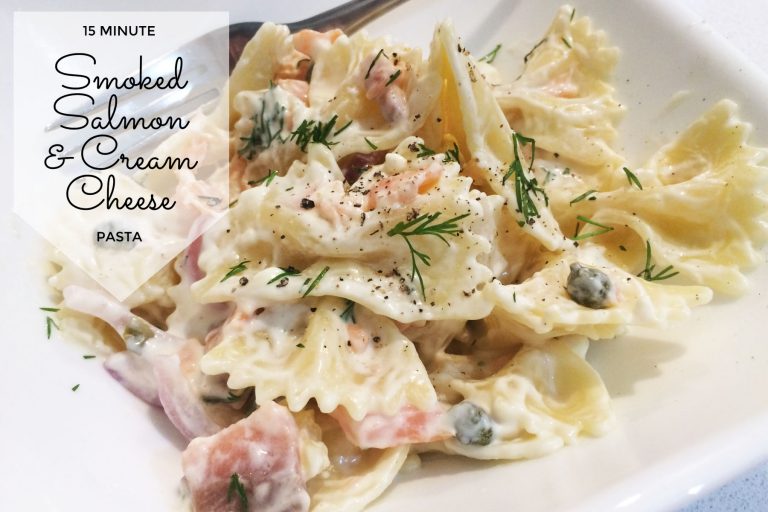 15 Minute Smoked Salmon & Cream Cheese Pasta
Sounds a bit amazing, doesn't it? And this smoked salmon and cream cheese pasta recipe can be ready even quicker if you opt for fresh pasta over the dried stuff!
I fell in love with the flavours of smoked salmon, cream cheese, red onion, dill and capers in the early 2000s when I'd order the combination on a toasted focaccia for brunch. So when I found this recipe for a pasta version I just knew I had to give it a try.
And I'm so glad I did. It is quick, easy and turns out heavenly!
Here's what you'll need to get this light and tasty pasta meal on your table fast!
Super simple, hey? Wait until you hear what you have to do with them!
Get the pot of salted water on the boil for your pasta and get that cooking. As soon as that pasta is done, it will be time to eat.
While the pasta is cooking, cut up the onion, dill and smoked salmon. Get the cream cheese out of the tub and cut it into smaller chunks anyway you can.
When the pasta is cooked, grab a 250ml measuring cup and scoop out about half a cup of boiled pasta water and reserve. Then pop all of your onions into the pasta water. Don't ask, just do it. I know it's weird, but trust me on this one.
Now drain the pasta and onions and return them to the pan it was cooked in. Add the cream cheese, capers, dill and smoked salmon and toss or stir through the pasta to combine, adding some of the pasta water where necessary to create a light, creamy sauce. You probably won't need all of the pasta water either. It's just there to help make the cream cheese extra creamy to coat the pasta.
Now it's ready! Serve immediately with salt and freshly cracked pepper to taste and lots of crusty bread.
I hope you love it as much as I do!
15 Minute Smoked Salmon & Cream Cheese
Ingredients
500g dried Farfalle pasta
Salt and freshly ground pepper
1 small red onion, sliced
250g tub of cream cheese cut into small pieces
1/4 cup fresh dill, chopped
2 tbsp capers, drained
100g smoked salmon, cut into bite sized pieces
Instructions
Cook pasta in a large pot of boiling salted water following packet directions until al dente. Reserve 1/2 cup of pasta water and add the red onion to the pot.
Drain the pasta and onions and return to the pot.
Add cream cheese, dill, capers and salmon to the pasta and toss or stir to combine, adding pasta water a little at a time until the sauce is smooth and creamy. You may not need all the water.
Season with salt and pepper and serve immediately.
https://mumslounge.com.au/lifestyle/food/15-minute-smoked-salmon-cream-cheese-pasta/