8 Top BBQ Tips Every Aussie Needs to Know (PLUS Win an Outdoor Setting Prize Pack valued at $600)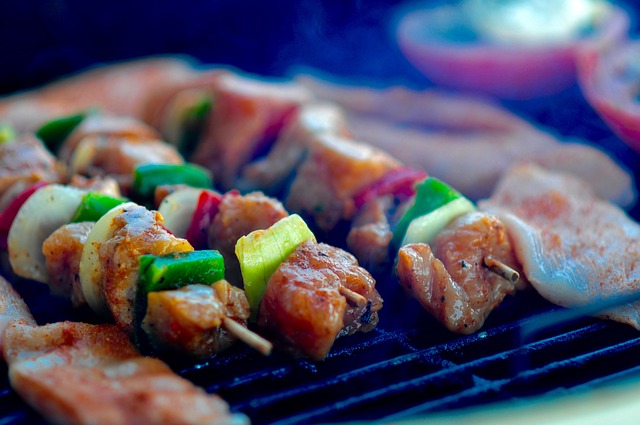 Sponsored post
8 Top BBQ Tips Every Aussie Needs to Know
Spring is here, and everyone knows what that means! Start penciling in some BBQ dates with family and friends. It's time to leave the kitchen behind and take the cooking outside! Hosting a BBQ requires a little more thought than throwing some snags on the BBQ and buying some cold beers though. Here are our top tips for ensuring that your next backyard get-together is as relaxed and fun for you as it is for your guests.
Be Prepared
Prepare as much as you can the night before so that you aren't indoors chopping salads and preparing side dishes while your guests are outside. Trust me, your guests will thank you for it too – nothing divides up a party quite so much as poor preparation. I have a friend that starts preparing her salads after everyone has arrived, and invariably the women end up chatting in the kitchen whilst the men congregate around the BBQ. Pet peeve of mine right there!
Don't Treat Side Dishes as an Afterthought
Preparing sidedishes ahead of time also allows you to put a little extra thought into them. Us Aussie's may love our barbequed meat – but veggies should still be making up the other 2/3 of the plate for a balanced meal.
This potato salad recipe using easy to make fresh mayonnaise is a guaranteed crowd pleaser and makes a great accompaniment to any meat or fish you may be cooking up on the BBQ.
Marinades
Meat also needs to be prepared the night before if you are using marinades. Marinades are great for both adding flavor to meat and tenderizing it. Bold flavours are best for meat cooked on a BBQ as they don't get lost during the cooking process. You can't go wrong with this amazing Spring lamb recipe or this traditional roast beef and mustard marinade.
Tip: Avoid using extra virgin olive oil in your marinades. Extra virgin olive oil is perfect for salads and sauces, but will burn and smoke if they come into contact with the BBQ. Instead opt for light olive oil or vegetable oils in your marinades.

Light the BBQ before guests arrive
Preheat your BBQ for 15-20 minutes before you even think about cooking on it. This will kill any bacteria that may be lurking there. This is also a great time to remove any debris from the grill – while it's hot! A long-handled wire grill brush is the quickest and easiest way to remove any charred leftovers from previous use. Similarly – give it a good scrub while the grill is still hot after use.
Of course, besides making it easier to clean, an adequately hot BBQ is essential for the cooking process! A properly heated BBQ grill should sear food on contact – creating the delicious caramelisation process that's synonymous with the BBQ.
Don't Cook Meat Straight from the Fridge
A butcher once told me never to cook cold meat on a BBQ. Instead allow it to stand for 20 minutes to reach room temperature to ensure it cooks more evenly. Meat fresh from the fridge placed straight onto a BBQ grill will stay cold on the inside and burn on the outside. Who knew?
Don't Play with Your Food
One of the most common mistakes made whilst cooking meat on the BBQ, is to over handle it. Sausages do not need to be pierced before cooking – I repeat DO NOT poke the sausage, unless dry tasteless sausages are your thing!
Similarly, burgers and steaks etc, only need to be flipped once or twice, and please, please don't squash down on the meat as this forces the juices out. Not even these amazing relish recipes could salvage a dry meat patty – although they'd come pretty close! (Seriously though…these zesty sweet and sour relish recipes are the perfect accompaniment for a nice, juicy BBq's burger!)
Don't Serve Meat Straight from the Grill
I know it looks and smells amazing, but resist the urge to cut into that meat too soon. Allowing meat to rest on a warm tray covered loosely with foil gives the meat sinews time to reabsorb the juices. Meat that isn't rested will lose it's moisture as soon as it is cut into – and nobody likes tough, dry meat!
Be Present in the Moment
With all the important points taken care of, all that is left to remember now is to relax and enjoy some quality time with your loved ones. The dishes can wait until later – enjoy your time with family and friends while they are there. With good planning and preparation there's no reason why you should be too busy running around after guests to have a turn of swinging the cricket bat!
For more great recipe inspiration download the FREE Keen's recipe ebook here
Giveaway
Because Springtime BBQ's and Keen's mustard were made for each other, Keen's Australia have put together an amazing prize pack to make your next BBQ the best yet!
Enter now for your chance to win an Outdoor Setting with Orla Kiely cushions, and a Keen's Mustard package valued at over $600.
To enter complete the entry form below.  Good luck!
Disclosure: This post is sponsored by Keen's Australia.  However, all thoughts and opinions expressed here are my own.