Bacon and Egg Pizzas Recipe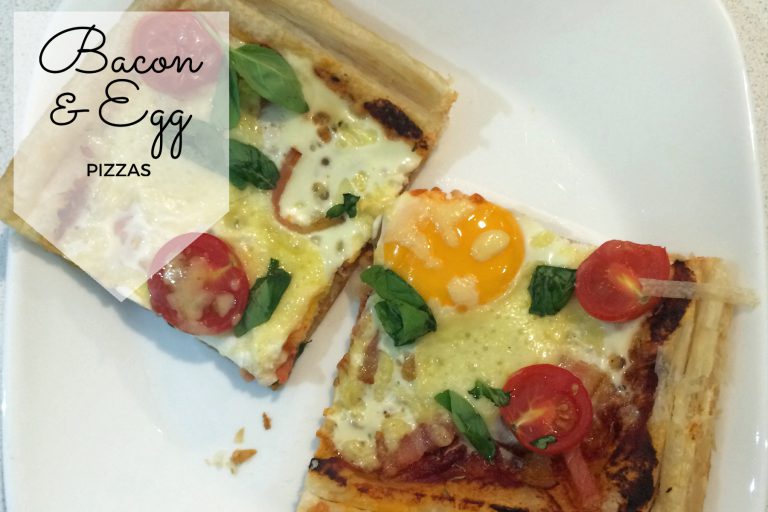 Bacon and Egg Pizzas Recipe
There's something a little bit special about these light and crispy puff pastry bacon and egg pizzas. With toppings including the classic Italian flavour combination of tomato and basil, gooey melted cheese and of course, delicious bacon and eggs, these pizzas aren't difficult to make but they look incredible and taste even better!
Use your fridge and freezer staples to make these fabulously tasty pizza tarts for an easy family dinner that everyone will love.
Bacon and Egg Pizzas Recipe
Ingredients
4 sheets of puff pastry, thawed
Tomato paste or pizza sauce
1 tablespoon of dried Italian herbs (optional)
2 cups of grated pizza cheese
4 rashers of bacon, chopped
Olive oil cooking spray
8 eggs
250g cherry tomatoes, halved
Fresh basil to serve
Instructions
Preheat oven to 200°C/180°C fan-forced. Line two oven trays with baking paper and set aside.
Using a small knife, cut a 1cm border around the edge of the pastry, being careful not to cut the whole way through. Place on prepared trays.
Spread inside the edge with 1 1/2 tablespoons of pizza sauce or tomato paste (if using tomato paste, flavour with some dried herbs). Sprinkle each pizza with 2 tablespoons of cheese and top with bacon.
Spray each border edge with olive oil spray and bake for 15 minutes, swapping trays halfway or until sides have puffed.
Crack 2 eggs onto each pizza and top with halved tomatoes and remaining grated cheese. Bake for 15 to 20 minutes, swapping trays halfway during cooking, or until egg whites have set and cheese is golden.
Sprinkle with basil, cut into quarters and serve.
https://mumslounge.com.au/lifestyle/food/bacon-egg-pizzas/
Notes:
You could substitute barbecue sauce for the pizza sauce or use shaved ham instead of bacon. Or add some roasted capsicum in place of the tomatoes and switch out the bacon for some thinly sliced salami.