Baked Brie with Thyme, Walnuts & Honey Recipe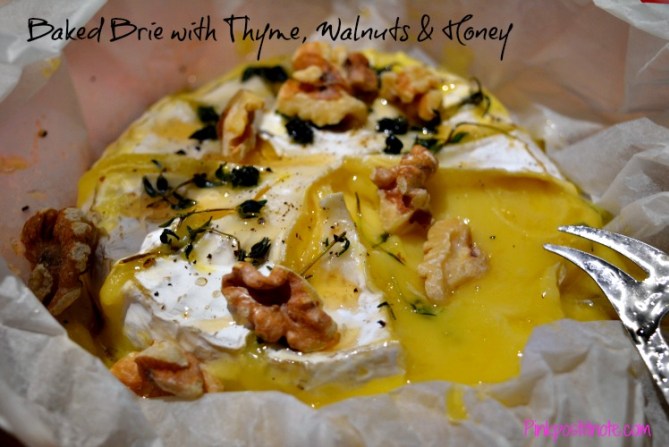 Baked Brie with Thyme, Walnuts & Honey Recipe
I hung out for weeks to make this delicious, absolutely to-die-for snack to eat all by yourself baked Brie party food to share with others. Just look at how gooey and delicious this looks. Brie cheese (well all cheese, really) is delicious on its' own, on a cracker etc. but like this!? Absolutely sensational. We had a cocktail party just before Christmas and in addition to the usual party food of chicken wings and sausage rolls I put this on the menu to serve with a big platter of deli meats and crackers, plus some grilled haloumi drizzled with lemon. But this would also work sensationally well as an end of meal dish or as a dessert alternative – served with some crusty bread or fruit.
The best part is how unbelievably easy it is. There isn't even any washing-up because you wrap it in baking paper before it goes in the oven and it looks perfectly rustic and gorgeous served up in the paper on top of a chopping board. Everyone raved about this.
Baked Brie with Thyme, Walnuts & Honey Recipe
Ingredients
200g whole brie
1/2 cup walnuts
12 small sprigs thyme
1 tsp olive oil
2 tbsp. honey
Instructions
Pre-heat oven to 200C. Scatter the walnuts over a baking tray and toast for 5 minutes. Set aside.
Lay a large piece of baking paper on the tray and pop the brie on top. Slash the brie in 12 places with a sharp knife and tuck the thyme leaves into the holes. Drizzle with olive oil and season with cracked black pepper. Wrap the baking paper around the cheese and twist at the top to enclose. Bake for 10 minutes or until soft. Serve on the baking paper on a cheeseboard topped with the walnuts and drizzled with the honey.
https://mumslounge.com.au/lifestyle/food/baked-brie-thyme-walnuts-honey-recipe/
Carolyn started her blog Pinkpostitnote.com just over a year ago as a way to deal with her obsession of trying new recipes from the copious collection of cookbooks that she owns (and continues to buy). She is particularly fond of "man" food, both cooking it and eating it. She will happily elbow people out of the road at the sight, sound and smell of a pulled pork burger. When she's not lying awake at 5am wondering if she should buy chooks and a cow to deal with the constant need for eggs and butter, she's dealing with all the paperwork associated with owning a bunch of tip trucks and her favorite time of the day is wine five o-clock.