Cheesecake Brownies Recipe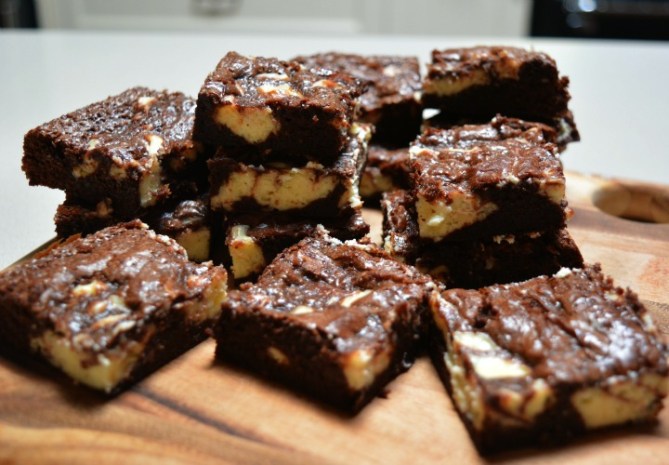 Cheesecake Brownies Recipe
These Cheesecake Brownies come courtesy of a lovely lady who I used to work with in local government. She brought them in for morning tea for her birthday and so many people begged her for the recipe she put it on the social club noticeboard (which goes out to hundreds of people). Of course I printed it and brought it home. And then I forgot about it, which probably isn't that hard to do if you could see the massive collection of books, magazines and loose recipes that I've torn out of random places (don't tell my hairdresser). Anyway, these are really quick and easy to make – the cheesecake component is just a packet of cream cheese beaten with a bit of sugar which is blobbed and swirled through the brownie mixture. They are absolutely delicious and perfect to pop into the lunchbox!
Cheesecake Brownies Recipe
Ingredients
125g butter chopped
125g dark cooking chocolate
1 cup brown sugar
3 eggs, lightly beaten
1/3 cup plain flour, sifted
1/3 cup cocoa powder, sifted
1/4 tsp baking powder
250g packet cream cheese, chopped and at room temperature
1/4 cup caster sugar
Instructions
Pre-heat oven to 180C/160C fan-forced/350F. Line a slice tin approx. 18 x 28cm with non-stick baking paper.
Place butter, chocolate and brown sugar in a small saucepan. Stir over low heat until smooth and sugar has dissolved. Remove from heat and cool for 5 minutes before whisking in the eggs.
Combine flour, cocoa and baking powder together, fold into chocolate mixture and pour into pan.
Beat cream cheese and caster sugar with an electric mixer until smooth. Spoon blobs of the cheese mixture into the chocolate and swirl with a skewer.
Bake for 20-30 minutes and allow to cool completely in the pan.
https://mumslounge.com.au/lifestyle/food/cheesecake-brownies-recipe/
Carolyn started her blog
Pinkpostitnote.com
just over a year ago as a way to deal with her obsession of trying new recipes from the copious collection of cookbooks that she owns (and continues to buy). She is particularly fond of "man" food, both cooking it and eating it. She will happily elbow people out of the road at the sight, sound and smell of a pulled pork burger. When she's not lying awake at 5am wondering if she should buy chooks and a cow to deal with the constant need for eggs and butter, she's dealing with all the paperwork associated with owning a bunch of tip trucks and her favorite time of the day is
wine
five o-clock.