The Best Oven Roasted Potato Recipes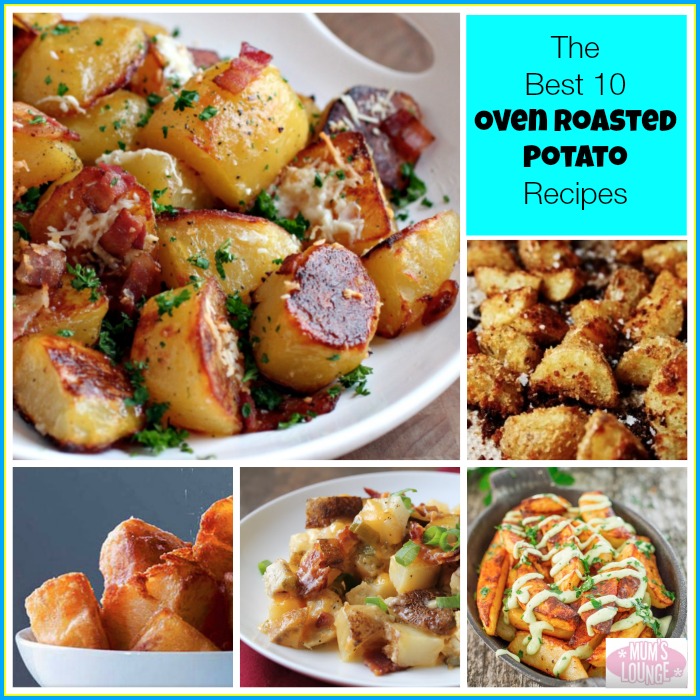 When I was growing up, anytime we were served a roast for dinner, I would always leave the roasted potatoes until last.  They were my favourite part of the meal and I wanted to take my time and enjoy them.  To this day, oven roasted potatoes are still one of my favourite foods, and over the years I have searched for the perfect oven roasted potato recipe to give me crisp and crunch roasted potatoes every time.  The following are some of our favourite recipes and are sure to become yours too.
This recipe for Italian Parmesan Roasted Potatoes combines two of my all time favourite comfort foods – potatoes and cheese!  To cut down on cooking time, these potatoes are firstly boiled for 10 minutes before roasted in the oven.
If you were wondering what could make an oven roasted potatoes even better, here is your answer – top them with bacon and cheese! Don't they look amazing?
Garlic Aioli really is the perfect accompaniment to these paprika oven roasted potatoes and it's easier than you think to make your own – so what are you waiting for?!
Just when you were thinking this recipe collection couldn't get any better, I present you with this Warm Roasted Baby Potato Salad with Crispy Bacon, Caramelised Red Onions and Warm Bacon Vinegarette…. you are welcome!
This recipe for the Ultimate Roast Potatoes is guaranteed to give you delicious and crispy roasted potatoes every time.
If you've ever wondered how to make your roasted spuds extra crispy, the answer is here: Add bread crumbs! The bread crumbs will crisp up as the potatoes roast, giving you a yummy and crunch mouthful.\
These smashed and roasted potatoes will give you the best of both worlds thanks to their creamy centre and crisp outer layer.  Why not sprinkle them with a little extra cheese to make them even more amazing?
There is no denying that Heston Blumenthal is an amazing chef, so just imagine how delicious his Roasted Potatoes will be!
If you are looking for a recipe to turn oven roasted potatoes into a complete meal then you can't go past this Loaded Baked Potato and Chicken Casserole recipe. This casserole combines chicken, bacon, cheese and onions with delicious oven roasted potatoes and all in a creamy sauce.
These oven roasted greek potatoes are quite possibly the best roasted potatoes I have ever seen?  With a light seasoning of garlic and oregano, there is no doubt they taste amazing as well!
What is your favourite way to cook roasted potatoes?