Braised Steak and Onions Recipe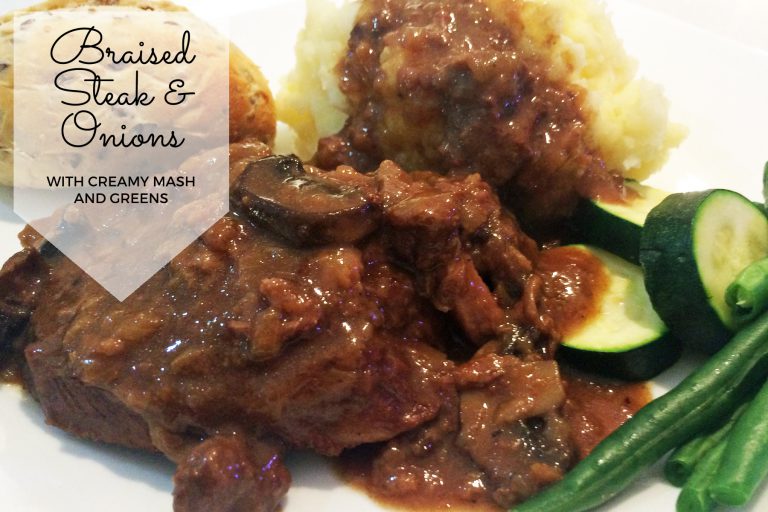 Braised Steak and Onions Recipe
There's a very good reason why old-school traditional recipes get passed down through the generations, and it's because they are tried and tested, fair dinkum, plate-licking absolute gems. Braised steak and onions is definitely one of those recipes.
Tender, melt in your mouth pieces of steak positively drenched with the best onion gravy ever, mixed with mushrooms and all spooned on top of creamy mashed potatoes and fresh green vegetables. Sheer perfection for a cold winter's night!
The best cuts of steak for this meal are the cheapest – go for blade, round or rump steak, or even big cuts of casserole steak work well too.
Braised Steak and Onions Recipe
Ingredients
2/3 cup plain flour
1kg blade or casserole steak
2 tablespoons olive oil
3 brown onions, thinly sliced
400mls beef stock
250gms mushrooms, thickly sliced
Mashed potatoes, zucchini and beans, to serve
Instructions
1. Combine 1/2 cup flour, and salt and pepper on a plate. Lightly coat each piece of steak in seasoned flour.
2. Heat oil in a non-stick frying pan over medium-high heat. Cook steak, in batches, for 3 minutes each side or until browned. Transfer to an ovenproof dish.
3. Preheat oven to 180°C. Add onions and mushrooms to the frying pan. Cook, stirring, for 4 minutes or until tender. Sprinkle remaining 2 tablespoons of flour over onions. Stir until well combined.
4. Slowly add beef stock, stirring constantly. Bring mixture to the boil. Pour mixture over beef. Cover and bake for 2 hours or until steak is tender. Serve with creamy mashed potatoes, zucchini and green beans.
https://mumslounge.com.au/lifestyle/food/braised-steak-onions/
Note:
If you prefer to slow cook this meal instead, follow all instructions and set your slow cooker on Low for 6 hours or High for 3. The sauce may be thinner, but you can thicken it with a tablespoon of cornflour mixed with half a cup of water stirred through half an hour before serving.