Easy Breakfast Ideas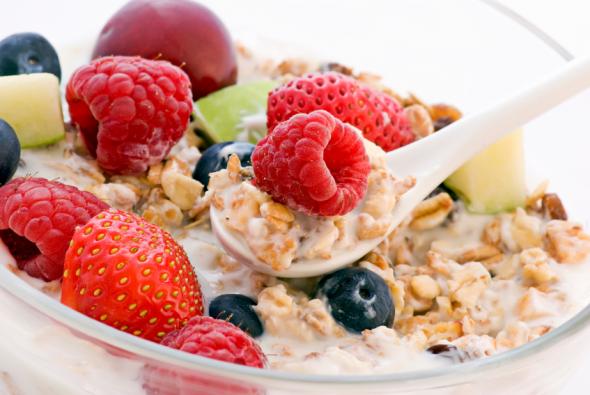 Easy Breakfast Ideas
Simple ideas to eat on the go….
There's a saying that, for optimal health and weight management, we should eat breakfast like a King and dinner like a pauper.  And it's spot on.  Breakfast really is the most important meal of the day.  It'll help you to maintain a healthy weight, get your brain fired up for the day, improve your mood and get more goodness into your system.  Skipping breakfast leaves you likely to snack on junk, feel sluggish and snap at the kids more than they deserve.
So, if we know it's good for us, why don't we get on with it and eat a healthy breakfast every morning?  A lot of it comes down to needing to feed the kids.  But with simple  and easybreakfast ideas, there's no need to sacrifice your own meal.  It's worth giving different breakfast a go, until you find the options that suit you best.
A healthy breakfast is low in fat, provides a variety of foods and has plenty of fibre, vitamins and minerals.  Ideally you'd always include dairy and a piece of fruit with your breakfast, so that you are on your way to meeting your daily dietary requirements.
Psst…. Your breakfast serve of dairy might come in your daily coffee.  Just make sure it's low-fat.
Variety is important.  If you eat the same breakfast everyday, it's unlikely that you're ticking all of the nutritional boxes.  Even having 2 or 3 breakfasts on rotation will make a difference.  Check out these ideas:
Throw-it-together breakfasts
A bit of everything….. Wholegrain toast with avocado, a piece of fruit, a pottle of natural yoghurt.
A couple of weetbix with milk & a sliced banana.
Fruit salad with yoghurt or ricotta.
Wholegrain cereals (try to get the ones with plenty of nuts and not too much dried fruit) with milk & a grated apple or pear.
A punnet of berries, a handful of nuts and a glass of milk.
Wholegrain toast with ricotta and stewed fruit, jam or tomato.
Plan-ahead breakfasts
Hard-boil enough eggs so that you have 2 per day for 2-3 days.  Eat them sliced into a wrap with vegemite or salad leaves. This is perfect if you get interrupted multiple times during breakfast.
Leftovers.  Who said you can't eat chicken for breakfast?
Bircher muesli.  Soak oats overnight in apple juice, natural yoghurt & milk (1c oats to 2c of combined liquid). You can add berries, grapes or grated apple, nuts and coconut. If you store them in the fridge as individual serves, they're ready to eat first thing.
5-minute breakfasts
A smoothie, including some rolled oats to add substance.
Soft-boiled or poached eggs on wholegrain toast with vegemite.
Grilled cheese on toast and a piece of fruit.
A 2-minute omelette filled with grated or shredded veges, so they cook in a flash.
Porridge (made from real oats, not high GI quick oats) with some chopped up dates and flaked almonds. Make it in the microwave if you can't keep an eye on it while it's cooking.
The most important thing is to eat something.  Get your metabolism, and your brain, going for the day.  If you haven't been a breakfast eater in the past, you might need to start small and slowly increase the size and variety of your breakfast.  If all else fails, have a glass of milk or a milky coffee and throw a banana in your bag.