Bruschetta Chicken Recipe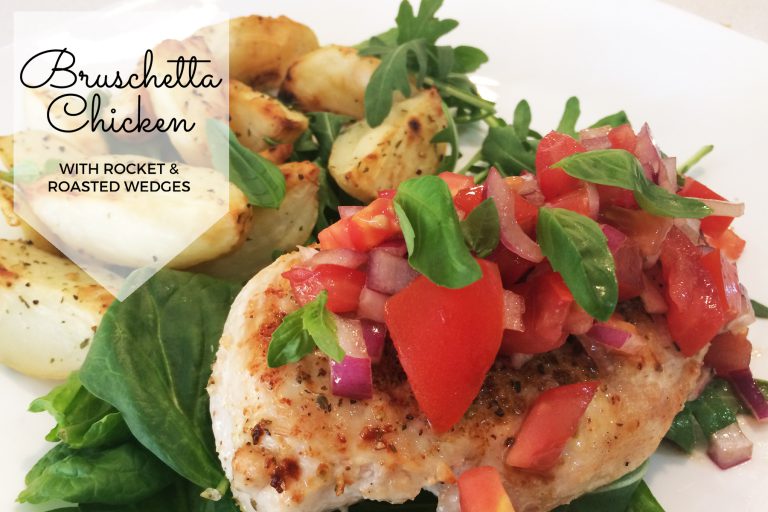 Bruschetta Chicken Recipe
I never thought such a simple recipe could taste so good! Grilled chicken on a bed of rocket and baby spinach with a bruschetta topper and roasted wedges – ready in just 20 minutes! If you love the flavours of bruschetta – tomato, basil, red onion and balsamic vinegar – then you'll need to give this one a try.
Here's how to pull this amazingly easy dinner together.
First up, you'll need to make a simple seasoning mix. You could use your favourite pre-packaged blend if you like, or you can give this one a try. Five ingredients – garlic powder, onion powder, dried oregano, salt and freshly cracked black pepper. Couldn't be easier.
Now sprinkle that all over your chicken breast fillets. You'll need enough fillets to feed everyone, with one fillet each (or if you have large fillets, slice them in half horizontally to form two steaks).
Then pan fry the chicken until cooked through and golden, about 5 minutes per side. Meanwhile, chop some tomatoes and red onion, and stir through some balsamic vinegar.
Now to pull it all together, place some baby rocket (and baby spinach too if you have some like I did) on a plate, and top with the chicken. Carefully spoon the bruschetta topper over the chicken and scatter some basil leaves over the top. Serve with homemade roasted potato wedges for a deliciously fresh and easy summer meal.
Bruschetta Chicken Recipe
Ingredients
4 single chicken breast fillets (one each)
1 tablespoon olive oil
1 tsp garlic powder
1 tsp onion powder
2 tsp dried oregano
1/2 tsp freshly cracked black pepper
1/2 tsp salt
3 tomatoes, finely chopped
1 red onion, finely chopped
1 tbsp balsamic vinegar
100g baby rocket leaves
1/3 cup basil leaves
Roasted potato wedges to serve
Instructions
Heat a frying pan over medium high heat. Combine the garlic powder, onion powder, oregano, salt and pepper in a bowl and sprinkle all over chicken fillets. Add to pan and cook for 4-5 minutes each side or until cooked through and golden. Transfer to a plate, cover with foil and allow to rest for five minutes.
Meanwhile, combine tomato, onion and vinegar in a glass bowl.
Place rocket on serving plates and top with chicken breast. Spoon tomato and onion bruschetta topper across the chicken and sprinkle with basil leaves. Add roasted potato wedges to the plates and serve.
https://mumslounge.com.au/lifestyle/food/bruschetta-chicken-recipe/