Cheesy Bacon Pasta Bake Recipe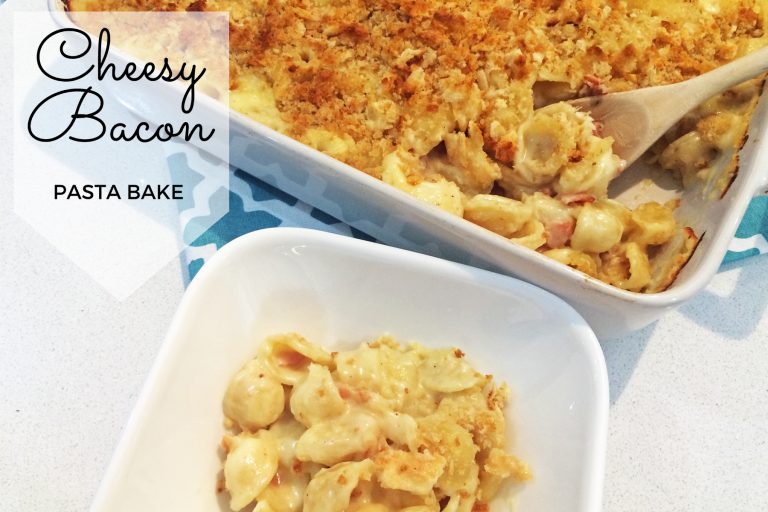 Cheesy Bacon Pasta Bake Recipe
There's absolutely nothing like a cheesy bacon pasta bake for warm, hearty comfort food. But don't reach for a jar of pasta sauce, you can make it yourself with milk, butter, cheese and flour for a creamy, cheesy bacony garlic sauce that coats pasta perfectly. It's easy to throw together and tastes so much better than the pre-packaged stuff.
And the best bit of all – toss fresh breadcrumbs through the bacon and garlic oil for the most amazing breadcrumb topping ever! Serve with a simple green salad and crusty bread and you have a meal everyone will love.
Cheesy Bacon Pasta Bake Recipe
Ingredients
500gms of short pasta, like macaroni or penne
4 tablespoons butter
1 clove of garlic, minced
6 rashers of bacon, diced
¼ cup plain flour
4 cups milk
1/8 teaspoon ground nutmeg
3 cups shredded cheddar cheese
1 cup finely grated Parmesan cheese
3 cups very coarse fresh breadcrumbs
Instructions
1. Cook pasta in a large pot of boiling salted water 1 minute less than package instructions. Drain and return to pot.
2. Meanwhile, melt half a tablespoon of butter in a frying pan and fry your diced bacon and garlic until crispy. Remove from pan and set aside, leaving the garlicky bacon oil in the pan.
3. Heat 3 ½ tablespoons of butter in a medium saucepan over medium-high heat. Add the flour and cook and whisk for 1 minute. Add milk, nutmeg, and a generous pinch of salt; bring to a simmer. Cook and whisk until the mixture for 2-3mins or until it is thick enough to coat the back of a spoon.
4. Whisk in cheeses until smooth. Pour over pasta and toss to coat. Pour in bacon mix and toss to coat. Pour into a large rectangular lasagne dish.
5. Reheat the bacon and garlic oil in the frying pan and toss the breadcrumbs through it. Sprinkle over pasta.
6. Preheat oven to 230c. Cover with foil. Bake until bubbling for 15 minutes, then remove foil and continue baking until golden, 5-10 mins more. Serve with a simple green salad and crusty bread.
https://mumslounge.com.au/lifestyle/food/cheesy-bacon-pasta-bake-recipe/