Cheesy One-Pan Lasagne Recipe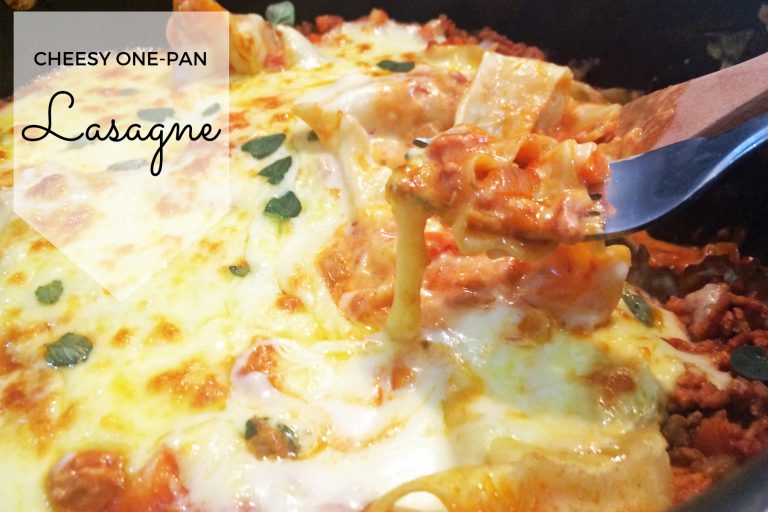 Cheesy One-Pan Lasagne Recipe
This shortcut version of a traditional lasagne will be sure to please hungry tummies. And best of all, you can make it up in one pan, saving you time and washing up!
Layers of rich bolognese sauce made from pork and beef mince are mixed with tender pasta and topped with a gooey cheesy layer of awesomeness. And it's really not that hard to pull together!
First up, your ingredients.
For the bolognaise sauce – pork and beef mince, olive oil, onion, garlic, celery, carrot, bacon, chicken stock, tomato paste, part of a jar of pasta sauce and a dried bay leaf. For the bechamel – flour, milk, butter and parmesan cheese. Plus curly lasagna sheets and mozzarella cheese to make the lasagne.
Brown the mince and break it up with a spoon, then remove from the pan and drain. Add a little olive oil and cook the bacon and vegetables until softened.
Return the mince to the pan with the tomato paste, some of the jar of pasta sauce, stock and bay leaf.
Allow to simmer gently for twenty minutes and get started on your bechamel sauce and lasagna sheets. Make the bechamel or use a jar of premade – entirely up to you.
You need to par-cook the lasagna sheets by cooking them in boiling water for four minutes and then placing them in an ice-bath to stop the cooking process so they don't overcook.
Then layer it all together in the frying pan and allow to simmer on the stovetop for another twenty minutes to finish cooking the pasta. Top with bechamel and sprinkle grated mozzarella cheese on top.
Pop it under the grill to melt the cheese on top and finish with some fresh herbs.
This rich, tasty, cheesy lasagne was a big hit with my family, and we'll definitely be making it again and again.
Cheesy One-Pan Lasagne Recipe
Ingredients
1 tbs olive oil
500g pork and beef mince
4 rashers short cut bacon, finely chopped
1 small onion, finely chopped
1 small carrot, peeled, finely chopped
1 celery stick, finely chopped
2 garlic cloves, crushed
500ml (2 cups) chicken stock
2 tbs tomato paste
1 dried bay leaf
500g jar pasta sauce
1 packet curly lasagne sheets, cut in half crossways
¼ cup coarsely grated mozzarella
25g butter
1 tbs plain flour
250ml (1 cup) milk
2 tbs shredded parmesan
2 tbs coarsely grated mozzarella
Instructions
Heat the oil in a large saucepan over medium-high heat. Add the mince and cook, stirring, for 3-4 minutes or until browned. Transfer to a bowl. Add the bacon, onion, carrot, celery and garlic to pan and cook, stirring, for 3 minutes or until softened. Return mince to pan with stock, tomato paste, bay leaf and half the pasta sauce. Bring to the boil. Cover and simmer for 20 minutes. Season with salt and pepper.
Meanwhile, fill a large bowl with cold water and ice cubes. Cook the pasta sheets, in 3-4 batches, in a large saucepan of boiling water for 4 minutes or until just starting to soften. Use a large slotted spoon to transfer to the bowl of water. This stops the cooking process.
Spoon half the remaining pasta sauce over the base of a 6.5cm-deep 19cm (base measurement) ovenproof frying pan. Top with a quarter of the pasta. Top with a third of the mince mixture. Repeat the layers with the pasta and remaining mince mixture, finishing with a loose layer of pasta on top. Top with the remaining tomato pasta sauce.
Bring the lasagne to a gentle simmer over medium heat. Reduce heat to medium-low and carefully cover the frying pan with a layer of foil to seal. Cook for 20 minutes. Remove from the heat and discard the foil.
Meanwhile, for the béchamel, melt butter in a small saucepan over medium heat until foaming. Add the flour and cook, stirring, for 1 minute or until mixture bubbles. Remove from heat. Gradually stir in milk until smooth. Stir over medium heat for 3 minutes or until thickened. Stir in the combined cheese. Season. Cover the surface of the béchamel with plastic wrap to prevent a skin forming.
Preheat grill on high. Top lasagne with the béchamel and sprinkle with mozzarella. Grill, rotating the pan occasionally, for 7 minutes or until golden. Top with herbs and serve with crusty bread.
https://mumslounge.com.au/lifestyle/food/cheesy-one-pan-lasagne-recipe/