Cherry Ripe Mudcake Cupcakes Recipe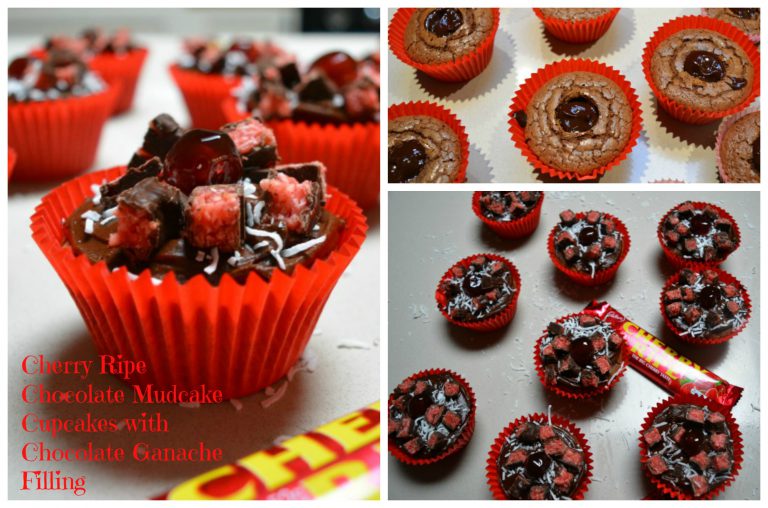 Cherry Ripe Mudcake Cupcakes Recipe
It was time to roll out some cupcakes for one of our employees last week who had a birthday and I have a slight Cherry Ripe addiction going on right now. Which is weird for me. I have never bought a Cherry Ripe chocolate bar to eat on its' own, ever. But I can't stop making things using Cherry Ripes!
It only made sense to add them to a cupcake right? And not just any cupcakes but chocolate mudcake cupcakes. These cupcakes would be absolutely delicious with no ganache inside them, no frosting on top of them and no cherry ripes, coconut and maraschino cherries on top. Seriously. They are THAT good. They are so rich and moist you could eat them all on their own. And I guarantee that you will gobble down the centres that you remove to fill with ganache just like I did.It is a super easy cupcake recipe too – no electric mixer required. A quick melt of chocolate, butter and milk on the stovetop and then add in some flours and eggs and bake. This recipe makes 24 cupcakes too – you can eat half and freeze half or it is the perfect quantity to bring along to a party or supply for a birthday.
Look: ganache inside them.
And why not dress them with some chocolate frosting, a sprinkle of coconut, some chopped Cherry Ripe bars and a pretty cherry in the centre.
Cherry Ripe Mudcake Cupcakes Recipe
Ingredients
250g butter, chopped
150g dark cooking chocolate, broken up
2 cups white sugar
1 cup milk
1 1/4 cups plain flour
1/4 cup cocoa
1/2 cup self-raising flour
1 tsp vanilla
2 eggs, beaten lightly
For the Chocolate Ganache:
250g dark chocolate, chopped
1/3 cup cream
One quantity of your favorite chocolate frosting
4 Cherry Ripe bars, chopped
24 maraschino cherries
coconut to sprinkle
Instructions
Pre heat oven to 160C or 140C fan-forced.
Line two 12-hole muffin pans with paper cases.
Combine butter, chocolate, sugar and milk in medium saucepan, stir over low heat, without boiling, until smooth.
Transfer to medium bowl and cool for 15 minutes (I used a big pyrex jug so I could pour straight into the paper cases).
Whisk sifted flours and cocoa powder into chocolate mixture, then add egg and vanilla.
Divide mixture amongst cases.
Bake about 35 minutes or until lightly golden.
Leave in tray for 5 minutes then remove and cool on wire rack.
Chocolate Ganache:
Place the chopped chocolate in a small heatproof bowl. Heat the cream until nearly boiling in the microwave, pour on top of the chocolate. Leave to sit for 5 minutes then stir until melted.
Make a small hole in the centre of each cupcake and fill with 1-2 tsp of chocolate ganache.
Top with chocolate frosting, a sprinkle of coconut, the chopped Cherry Ripe pieces and a maraschino cherry.
https://mumslounge.com.au/lifestyle/food/cherry-ripe-mudcake-cupcakes/